"I Am Not So Amused" – IndyCar Leader Alex Palou Dismisses Possibility of F1 Future
Published 08/16/2021, 1:40 PM EDT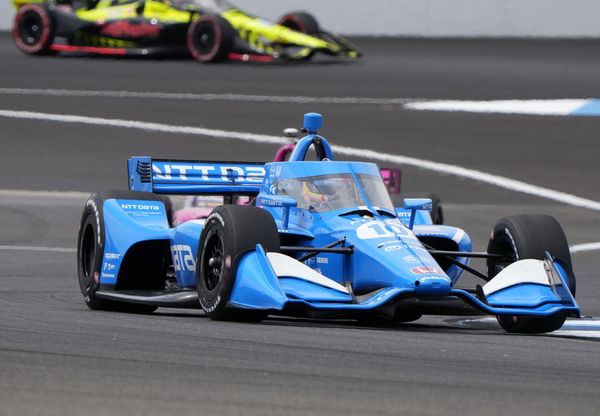 ---
---
Spanish IndyCar racer Alex Palou showed great judgment diverting from life in Formula 1. After completing his career in F2, the racer switched to IndyCar. Although he didn't have the best performance in the junior leagues, he made the smart choice as he now thrives in the Indycar series.
ADVERTISEMENT
Article continues below this ad
As an example of a career beyond F1, Palou explains his preference for IndyCar.
"For me, F1 is obviously the premier class, but there are only 20 people in the world who are dedicated to it. I had to find a way to be a professional driver. My dream was to get to IndyCar, because of the American dream, because of how competitive the championship is."
ADVERTISEMENT
Article continues below this ad
Alex Palou said he's more than happy with the series he is currently in. "I am very very happy to be in the Indycar. Here, 98% of the drivers have a chance to win every race and that is something that does not happen in F1. It's what makes you want to go to the next race."
Alex also provided a harsh reality check to the prospects of winning in F1. The Spaniard argues that while being an F1 is good for popularity; he didn't care for it. " Going to F1 because it is more popular, you will be more on television and you will have better photos for Instagram, but you will be 17th, 15th, or 12th on the grid. I am not so amused."
He explained that for him, the Indy is more fulfilling."Here I am very happy. The races are very big. We have the Indianapolis 500. There are only two teams and 4 drivers in F1 that can win races and it is something that does not fill you as much as winning here."
Alex Palou hailed by F1 legend
F1 old-timer Fernando Alonso praised his compatriot, calling him a "phenomenon". He holds Palou high in respect, saying, "This year I see him becoming champion because he is the most consistent, the best and I am very happy because ha3ving a young Spaniard who is succeeding in IndyCar I think is good for everyone and opens eyes a little bit to new generations as well."
ADVERTISEMENT
Article continues below this ad
Alonso too comments on the prospects beyond F1 for a racer. " F1 is all very well, but it only has 20 drivers from all over the world and not everyone can get there. IndyCar is fantastic, as is the WEC [World Endurance Championship]… there is a lot of racing that is not F1.
ADVERTISEMENT
Article continues below this ad
"It's okay for youngsters to dream of F1, but if they don't make it–it can't be a frustrating dream. What Alex is doing, I think, can have repercussions beyond his title or wins," Alonso concluded.
Watch this story: Biggest Crashes From 2020 Featuring Leclerc, Vettel & Grosjean