'I am Tripping' – Kevin Durant Hilariously Forgets to Mention Russell Westbrook in His Top Five Teammates
Published 04/19/2021, 1:21 AM EDT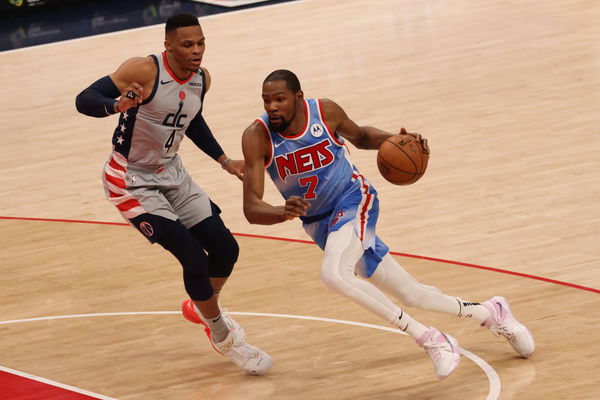 ---
---
Kevin Durant is possibly the best player in the NBA. The former MVP has been in the league for 14 years now but is yet to show signs of slowing down.
ADVERTISEMENT
Article continues below this ad
Durant is possibly the most gifted scorer even in the NBA. And while his greatness cannot be denied, he has also been privileged to play with some of the very best teams in NBA history. And now, Durant makes his picks for his top five teammates across his career.
Kevin Durant Snubs Russell Westbrook?
ADVERTISEMENT
Article continues below this ad
Brooklyn Nets forward Kevin Durant was a guest on 'Million Dollaz Worth of Game'. The guests asked Durant to name his top five teammates in his career.
Durant gave the expected answer of current teammates Kyrie Irving and James Harden. Then, Durant threw it back to his Golden State Warrior days with Stephen Curry and Klay Thompson. However, he surprisingly picked Serge Ibaka, his teammate from OKC.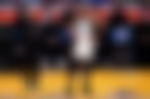 The hosts were a little befuddled by his last pick. They pointed out that Durant omitted former NBA MVP Russell Westbrook from his list. What appeared to be a snub initially turned out to be a case of forgetfulness.
Durant quickly adjusted his list and said that Westbrook is absolutely in his top-five teammates. So this wasn't a case of anyone being snubbed or harsh feelings, but just one player forgetting another.
KD and Russ had a rocky relationship
However, Durant's initial snub would have contributed to the existing narrative about KD and Russ. Durant infamously left the Oklahoma City Thunder in 2016 to go join the Golden State Warriors.
At the time, rumors emerged that Durant did not want to play with Russell Westbrook, as Russ didn't put him in the best situations as the point guard, and kept the ball to himself.
But it appears the negative feelings between the pair have been put to rest. Whenever the two face off in an NBA game, there are always kind words, smiles, and happy gestures.
ADVERTISEMENT
Article continues below this ad
Perhaps, they may not want to play together but have mutual respect and a friendship between the two. Regardless, it is good to see two excellent players put their differences aside and resurrect their friendship.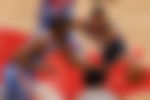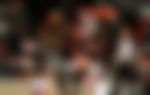 ADVERTISEMENT
Article continues below this ad
Who is Kevin Durant's best teammate? There is an argument for everyone on KD's list. However, until the Nets trio can win a championship, fans will lean toward Stephen Curry and Klay Thompson.