"I Didn't Get This Hug When Getting Home"- Raven Saunders Tweets Out Emotional Message After Returning Home From Tokyo Olympics
Published 08/10/2021, 8:50 AM EDT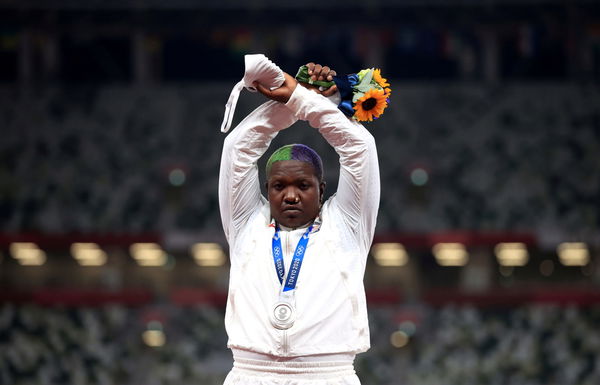 ---
---
Raven Saunders won the Silver medal in the Women's shot put at the Tokyo Olympics 2020. The American was ecstatic after winning the silver medal. She was also the center of a lot of attention as she made a sign during the podium presentation.
ADVERTISEMENT
Article continues below this ad
Raven Saunders held up her hands in an X over her head. When asked about it later, she said it represented the intersection where all oppressed people meet.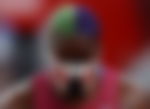 Raven Saunders bittersweet victory 
ADVERTISEMENT
Article continues below this ad
Saunders arrived back home with a silver medal and a lot of grief in her heart. The 25-year-old lost her mother two days after she won the Olympic Silver medal. She arrived at the Charleston International airport last Saturday with her sister, Tanzania.
In the same plane, traveling with them was the body of her mother, which lay in the plane's belly. Clarissa Saunders passed away in Orlando, Florida on August 3. They have not disclosed the cause of her untimely death.
Raven Saunders was a voice for the LGBTQ+ community, she used her platform at the Olympics to raise her voice against oppression. She did what others were too scared to do.
For all of you that can. Could you hug your mother's a little tighter the next time you see her. The only thing that's getting to me is that I didn't get this hug when getting home. pic.twitter.com/UpNLZ7TAOv

— Raven HULK Saunders (@GiveMe1Shot) August 9, 2021
ADVERTISEMENT
Article continues below this ad
At the Airport she addressed the crowd, and the media that had gathered "There's two things I say in life that you have to accept, be it physical or mental," Saunders told the crowd.
"One, that it's going to hurt, and it's going to be very painful. No matter how you look at it, it's going to hurt. But, two, understand that you're strong enough and worthy enough to accept those challenges and make it through and make it past those things."
Saunders also spoke about how grateful she was that her mother could watch her compete and win the Silver medal.
ADVERTISEMENT
Article continues below this ad
"I've had so many people send me pictures and videos with her in it, with a smile bigger than I've ever seen on her face before." Saunders lock screen shows the last text her mother sent her. She congratulated her on winning the silver.