"I Find That Stupid": Daniil Medvedev's Coach Opens up on His Unorthodox Celebration
Published 12/07/2020, 5:30 PM EST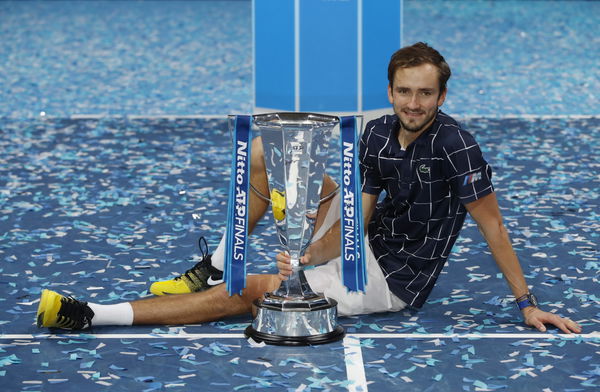 Winner of the Paris Masters and the ATP Finals, Russia's Daniil Medvedev ended his 2020 season in great style. On his way, the 24-year-old even surpassed Roger Federer and became World No. 4. However, his non-celebratory approach after defeating Dominic Thiem in the finals at London has been a trending subject ever-since. His coach, Gilles Cervara expressed his views on the same.
Professional since 2014, Daniil had his breakthrough season in 2019 where he won two Masters 1000, St. Petersburg and Sofia. In 2020, the Russian had a disappointing start, but he remained in the competition and won the last two ATP tournaments. As far as celebrations go, Medvedev has its own uncanny style.
"I find that stupid, but it's Daniil Medvedev": Gilles Cervara
ADVERTISEMENT
Article continues below this ad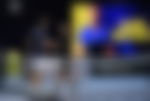 To win his first ATP Finals tournament, the Russian had to steer past the Top 3 players of the season. He won conclusively against all – Novak Djokovic, Rafael Nadal and Dominic Thiem. While one might expect him to be all over the place, Daniil accepted the win with a calm demeanor.
Gilles said, "I find that stupid, but it's him and so there is nothing else to say. It's his way of celebrating."
With his win in London, Medvedev also wrote an epic end for the Russians at the O2 Arena. Of the 12 editions of year-end tournaments in London, it's first (Davydenko – 2009) and the last winner has been a Russian tennis player.
12 years, 8 different champions at the #NittoATPFinals in London 🙌

09: Davydenko 🇷🇺
10: Federer 🇨🇭
11: Federer 🇨🇭
12: Djokovic 🇷🇸
13: Djokovic 🇷🇸
14: Djokovic 🇷🇸
15: Djokovic 🇷🇸
16: Murray 🇬🇧
17: Dimitrov 🇧🇬
18: Zverev 🇩🇪
19: Tsitsipas 🇬🇷
20: Medvedev 🇷🇺 pic.twitter.com/AcmU9CeGan

— Tennis TV (@TennisTV) November 22, 2020
Medvedev and his celebrations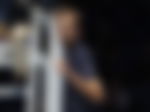 According to his coach, Daniil has never been big on celebrating his wins. But Cervara also shares a story of their first ATP title at Sydney in 2018.
"When he was putting winning points, I jokingly said, 'you act like you have a gun in your hand and you blow at the end of the thing'. And, when he won the tournament, he turned to me and he did that with his racket," Cervara said.
ADVERTISEMENT
Article continues below this ad
Moving ahead, Cervara mentioned that he had like to celebrate, but he cannot because Daniil does not. As long as the Russian is winning big tournaments, it matters less whether he celebrates or not.
ADVERTISEMENT
Article continues below this ad
His back-to-back title wins will be challenged at the next tournament – 2021 Australian Open. Even though many details of the Grand Slam are still uncertain, the players have begun their pre-season training. For the World No. 4, his participation in Down Under remains unconfirmed.