"I Googled My Own Name" – Dominic Thiem
Published 03/22/2020, 7:35 AM EDT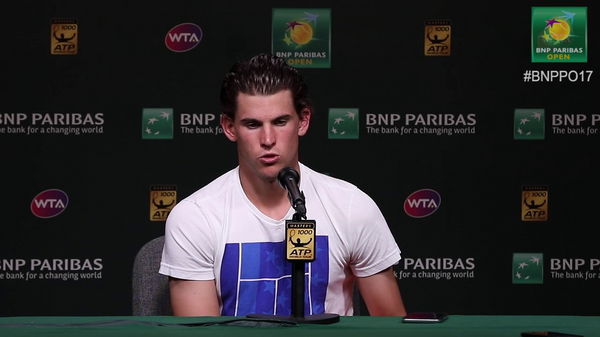 ---
---
Dominic Thiem has established himself as a force to be reckoned with on the ATP tour. Just like all major figures on the ATP tour we also want to know more about him. Tennis Channel has done exactly this through their Confessional Carts on Twitter.
ADVERTISEMENT
Article continues below this ad
ADVERTISEMENT
Article continues below this ad
Q&A Session with Dominic Thiem
In Tennis Channel's Confessional Carts, a player is taken on a golf cart and asked a series of questions. Dominic gave a lot of information about himself through his answers. Here are some of those questions and Thiem's answers.
"What Olympic sport would you play besides tennis?"  
Thiem replied saying that he would play football. In addition to this, he was asked who was his favorite football player. He was clearly a Chelsea fan replying, "Everyone from Chelsea." 
"If you could be courtside for any one match in history, what would it be?"
ADVERTISEMENT
Article continues below this ad
Dominic chose the 2009 Australian Open Semifinal between Rafael Nadal and Fernando Verdasco. That match was one of the most physically demanding as it lasted 5 hours and 14 minutes. Rafael Nadal prevailed and won the match. Dominic Thiem regards this as the best match ever.
"What's the last thing you googled?"
This was the penultimate question. It was extremely funny as Dominic Thiem said he googled his own name. He said he does that to look at what people are saying about him. I have to agree with Tennis Channel, if I was Dominic Thiem I would google myself too.
ADVERTISEMENT
Article continues below this ad
It was good to know more about Dominic Thiem as he is part of the NextGen. He is likely to take over from the Big Three as he has already reached 3 grand slam finals. He will have to wait however as the coronavirus has suspended the ATP tour. We can expect him to win his first grand slam soon.