"I Puked 30 Times": Colby Covington Claims UFC Fed Him Uncooked Chicken
Published 02/17/2020, 3:12 PM EST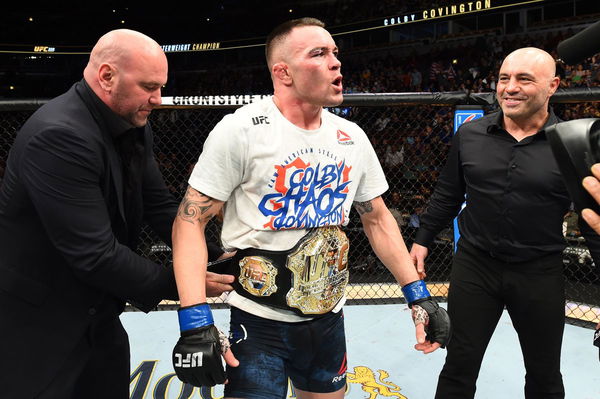 ---
---
Colby Covington recently featured in an online interview where he gave some disturbing details about his performance at UFC 245. He lost the main-event-title-match against the Welterweight champion, Kamaru Usman. The match itself was filled with incidents that screamed controversy.
ADVERTISEMENT
Article continues below this ad
Earlier, Covington stated that he lost the match due to the broken momentum owing to Usman's claims of eye-poking and below-the-belt gameplay. Both these events mandated it for the referee to call a halt to the fight. It is these halts that Covington said provided Usman with the time to recuperate. Both claims made by Usman were actually questionable, but that is a completely different conversation.
The fight ventured into the final minutes of the last round and ended with Kamaru scoring a TKO. Surely, it was a tough loss to digest. Still, the most recent reasons given by Covington regarding his inability to perform sound completely absurd.
ADVERTISEMENT
Article continues below this ad
Colby Covington on why he did not wrestle Kamaru Usman
In an interview, Covington stated that he had food poisoning. According to him, uncooked chicken served to him by UFC was the reason he got food poisoning. He said, "I haven't really told anybody but UFC was preparing meals for me all fight week. I ended up getting very sick after one of the meals. Like, I think they didn't cook the chicken very well. I got food poisoning 2 nights before the fight and puked 30 times. Literally 30 times."
Carrying on, he told the interviewer that his manager refused to let him pull out of the fight. According to Covington, his manager, Dan Lambert said, "You can't pull out. You're in the main event, can't do that to the UFC."
ADVERTISEMENT
Article continues below this ad
It is not unheard of for fighters to pull out of matches citing health issues. The fact that his own manager asked him to continue despite 30 vomits sounds utterly unbelievable. Yet, Colby Covington gave Kamara Usman a tough run for the title. Given his "food poisoning", that was one hell of a performance that Covington managed to pull off.
He stated that he felt weak and thus wasn't able to wrestle and that the rematch will show people what he can actually do to Kamaru. There is no confirmation regarding the genuineness of the above-mentioned events, but if the rematch does happen, Covington should make sure that his food is well-cooked. Or better yet, not eat it if it feels uncooked.
ADVERTISEMENT
Article continues below this ad