"I Shouldn't Have To Change! I Like My Hair" – When Venus Williams Argued With The Chair Umpire
Published 04/10/2020, 1:15 PM EDT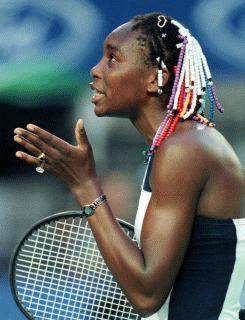 ---
---
Venus Williams has been a part of very few controversies as compared to her younger sister Serena Williams. However, that doesn't mean that the older Williams sibling hasn't had her fair share of problems on the court.
ADVERTISEMENT
Article continues below this ad
A very prominent among these incidents came at the very beginning of her tennis career. In fact, this unfortunate incident left so many scars that it led to heat between the players involved. The incident happened in a match between Williams and her fierce rival Lindsay Davenport.
Strangely, this had something to do with the hair of Venus Williams. Let's find out more about what happened.
ADVERTISEMENT
Article continues below this ad
Know More – "I Love Will Smith"- Venus Williams
What happened between Venus Williams and Lindsay Davenport? 
Williams was facing Lindsay Davenport in the quarter-finals of the Australian Open 1999. However, she was being decimated by the gutsy American.
Williams used to wear beads in her hair at those times. As a strand of beads flew to the court, the umpire stopped the rally mid-match. Williams complained to the umpire that he was being too rigid about it.
As it happened again a few points later, the umpire penalized her a point for causing a "disturbance". This time Venus was not very kind. The penalty caused her a service game as Lindsay went up 3-0 in the set. Williams argued and screamed with a wavering voice as the rest of her beads scattered in the court.
"There's no disturbance. No one's being disturbed," she screamed at the Australian umpire Denis Overberg.
"I can't guess if it's disturbing your opponent," he replied.
"This never happened before," she continued. "This is out of control."
Williams demanded that her case be taken to the tournament referee. This role was being played by Peter Bellenger. "Do you see me here trying to pull them out"- she screamed.
However, the referee backed the umpire saying that the rules said that any worn garment can't be thrown on the court. The trouble was that this rule applied only to large garments that could disrupt play like a cap. As the umpire refused to take back the call, Venus Williams screamed in frustration.
She would go on to lose the match by a margin of 6-4, 6-0.
Drama in the post-match presser
Williams called out the match officials and refused to shake hands with the umpire after the match. She was showered in boos by the crowd.
"I don't think it was a very fair call. I have never had such treatment before from any other umpire in any other match."
She called the decision absurd.
"I just found it quite odd (and) disrupting."
She added – "I shouldn't have to change. I like my hair"
However, Venus agreed that she lost the match because she didn't play well. Not because she was distracted.
"I didn't lose the match because of my beads falling out," she said. "I lost because I didn't play as well and I lost my focus. It's definitely a lesson that I have to learn at this stage of my life, when I'm young. I don't have to learn twice."
Lindsay Davenport also said that the focus should be on her win.
Know More – "Pay Disparity Is Just One Element" – Venus Williams Attacks Inequality In Sports
ADVERTISEMENT
Article continues below this ad
"A lot of focus is going to be on the bead incident, but I was already up a set and a break," Davenport said. "If the beads hadn't fallen out, it was still a breakpoint."
She also revealed that she was not the one to complain to the umpire about the beads. However, she did say that they were a distraction.
"You can hear them, and you can see them a little bit."
ADVERTISEMENT
Article continues below this ad
"You learn to play the ball," Davenport said. "I'm not going to say it was a total distraction but it is a little annoying. It's a little dangerous for her. I mean, she could maybe step on them."
Williams would rarely wear beads after this incident. She even said after the match that she loved her hair and didn't like them disturbed. What is your take on this entire incident and do you think the umpire's call was justified?