"I Thought I Was Professional": Nick Kyrgios Amused After Mishap Before Felix Auger-Aliassime Clash at Wimbledon Championships 2021
Published 07/03/2021, 10:50 AM EDT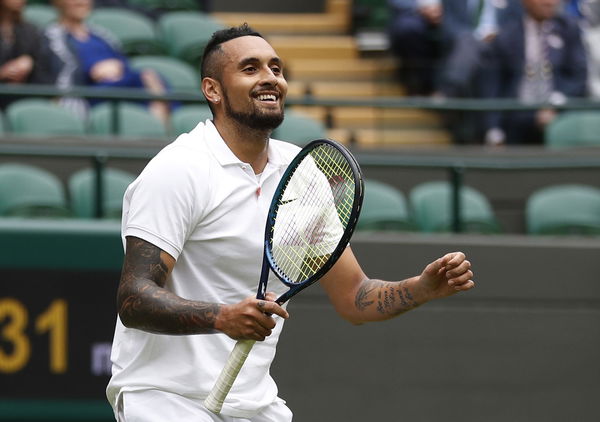 ---
---
Nick Kyrgios has been in a cheerful mood at the current Wimbledon Championships 2021. He has successfully reached the third round and is playing Felix Auger Aliassime. However, upon reaching the No.1 Court, Kyrgios realized he had left his tennis shoes in the locker room. And it was hilarious as Kyrgios talked to himself while Felix looked on.
ADVERTISEMENT
Article continues below this ad
While talking to himself, Kyrgios was amused. And while waiting for his shoes to arrive Kyrgios said: "The one day I thought I was professional. Got my racquet, got all my clothes, walking out here so confidently, then bang! Left my shoes in the locker room." Kyrgios' actions caught many laughing while Felix waited for the proceedings to begin.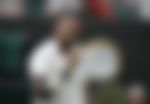 This hasn't been the first time Kyrgios has forgotten his shoes. The Australian had forgotten his shoes while playing Cincinnati Masters in 2018. There his match was against Denis Kudla and he was laughing at himself at that time as well.
ADVERTISEMENT
Article continues below this ad
Nick Kyrgios is at Wimbledon Championships to entertain
Kyrgios is surely living up to his own entertainment standards. The Australian loves coming to Wimbledon and has confessed that he is there to entertain. He doesn't want to become like Federer, Nadal, or Djokovic. He is happy to be funny and a fan favorite.
"I'm okay with just enjoying myself, putting on a show. You have to have some people, I believe, that are relatable, that people can bring other fans to watch, like people that are just normal. I feel like I'm one of those people. I'm quite lighthearted. Yeah, they know it's a bit of a show. They just want entertainment at the end of the day,"
Kyrgios' opponent also sides with the fact that Kyrgios is an entertainer. But the Canadian is not taking anything for granted. He knows Kyrgios is a huge threat on grass and is in strong form.
"Nick is a great player, a great entertainer. I think he's good for tennis. He seems focused and playing well the last few matches. He has everything that a player needs to play well, especially on grass, he serves amazing."
<
ADVERTISEMENT
Article continues below this ad
div class="mceTemp">
Early on in the match, Kyrgios has looked more potent against Felix. He has taken a huge lead in the first set and has continued well from his previous matches. The Australian is now commanding a huge crowd base at this year's Wimbledon.
ADVERTISEMENT
Article continues below this ad