"I Will Be on This List": USA's Fred Kerley Aims to be The Highest Paid Track Athlete of All Time
Published 11/06/2021, 8:30 AM EDT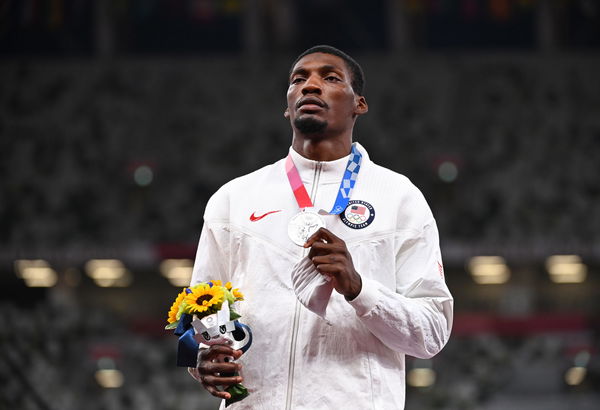 ---
---
Fred Kerley, the American track and field athlete, has outshone himself in the field, not once but multiple times. Kerley mostly competes in the 400 meters, startling fans with his swift moves.
ADVERTISEMENT
Article continues below this ad
The star sprinter is the eighth fastest man in 400 meters with a personal best of 43.64 seconds. His decision to focus on short-distance races has paid off since he ranked 2nd in the 100 meters at the 2020 Tokyo Olympics.
ADVERTISEMENT
Article continues below this ad
Recently, Bleacher Report released a list of the highest-paid athletes in the world. Notably, Fred Kerley took to Twitter, claiming and assuring that he too will be part of that list one day.
Kerley dreams of being on the list of highest-paid athletes
Excelling the 100 meters in 9.84 seconds, Kerley's next goal is to be among the highest-paid athletes. Currently, the athlete's net worth is $1.5 million.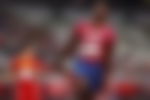 Bleacher Report recently revealed the list of the highest-paid athletes in the world. The list includes star athletes from football, basketball, golf, and other sports. Sharing the same, Fred Kerley revealed his goal of being on this list. He wants to be one of the highest-paid athletes in the world.
"I will be on this list," tweeted Kerley.
His followers and well-wishers showed their support towards his goal and encouraged him to keep fighting for the same.
The list covers some of the greatest football players, like Cristiano Ronaldo and Lionel Messi, golf masters like Tiger Woods and Arnold Palmer, and boxing champions like Floyd Mayweather. Among others, retired basketball icon Michael Jordan tops the list with his net worth of $2.62 billion.
Moreover, Kerley never failed to prove himself in the field since high school. The 26-year-old has enough time on his hands to rise to the top and be on that list.
Fred Kerley, one of the nominees for USA Track and Field Awards
Fred Kerley and the American Middle-distance runner, Athing Mu have been nominated for USA Track & Field athlete of the year awards.
The Nike professionals have each been nominated for USATF Athlete of the Year in their respective genders. Fred Kerley has been nominated for the Jesse Owens Asse Athlete of the Year award. Additionally, the duo was also nominated for the Breakthrough Performer of the Year.
ADVERTISEMENT
Article continues below this ad
Jumping from 400 meters to 100 meters and being one of the best in the sport, Kerley has proved himself. He completed the race second in just 9.84 seconds, making it his personal best.
Before the U.S Olympic Trials, Kerley got himself in the third position at 9.86 seconds. He is now one of the three male runners in history to run a sub-10 second in the 100 meters, sub-20 seconds in the 200 meters, and sub 44 seconds in the 400 meters in their career.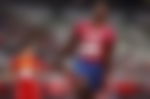 ADVERTISEMENT
Article continues below this ad