"I Wouldn't Say I Respect Them More": Nick Kyrgios on Being Different Than Stefanos Tsitsipas and Felix Auger Aliassime
Published 12/02/2021, 12:29 AM EST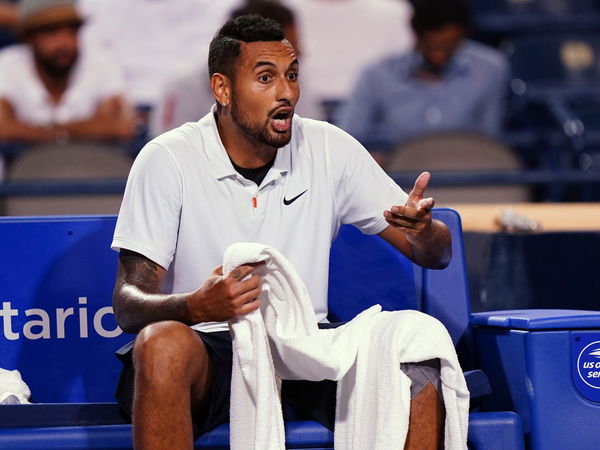 Australian tennis star Nick Kyrgios is one of the most charismatic players on the Tour. With his flashy skills and clean winners, he can build a special relationship with crowds. Lately, the 26-year-old has been hosting the 'No Boundaries' podcast with a few of his friends. 
In its latest episode, Nick talked about his fellow players on the Tour. Kyrgios felt that there are other players who are more dedicated and committed to the sport than himself. However, he does not want to emulate anybody and just wants to be himself. 
ADVERTISEMENT
Article continues below this ad
"To what extent?" Nick Kyrgios on Felix and Tsitsipas' dedication
There has been a longstanding criticism of Nick that he has the talent to be one of the best players in the world, he just lacks the drive. He was asked about this and stated, "I wouldn't say I respect them more. I just think that everyone's different. For instance, (Stefanos) Tsitsipas would do everything and dedicate his life to playing at the slams. Like diet-wise, he's doing yoga, stretching, gymming. I may not be doing that but I wouldn't say I respect him more just because he does that. Everyone's different." 
After using the example of Tsitsipas and his passion for the game, Nick also an instance with the Canadian, Felix Auger Aliassime during the Laver Cup and his keen observing skills. On the contrary, Nick failed to understand his dedication.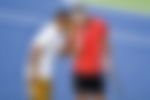 The 26-year-old added, "For instance, Felix Auger Aliassime is my teammate on the bench and we're watching Rublev and Schwartzman play. I'm just sitting on the bench recovering, wearing a hat on, just out of it. Felix is like on his phone recording points. I'm like this guy is f****d up. I respect the f*** out of that, like he's going to do amazing things because of that but I'm like to what extent?!" 
ADVERTISEMENT
Article continues below this ad
As Nick mentioned in the podcast, he has thousands of people everyday telling him how to train, how to hit a forehand etc. But, the 26-year-old mentioned that he feels he is in a good place in his life, and going above and beyond for his profession isn't for him. 
Coming to tennis, Kyrgios was last seen on a tennis court at the Laver Cup. However, he has been training intensely during the off-season to get a solid start to the 2022 campaign. We wish him all the best.
ADVERTISEMENT
Article continues below this ad
Watch this story: The Journey of Roger Federer to the Elite Billionaire's Club