"IBRACADABRA"!- THE SPELL THAT CHANGED SWEDISH FOOTBALL
Published 09/06/2014, 5:26 AM EDT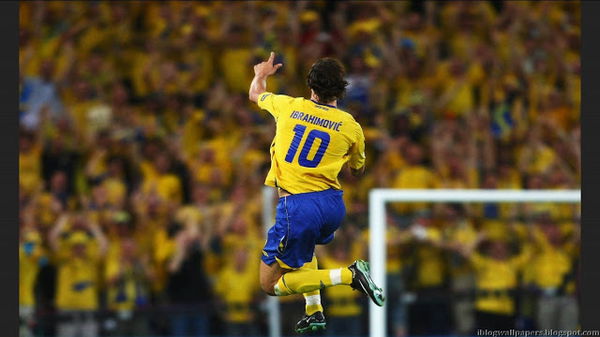 ---
---
It was the winter of 2014, prior to the first world cup knockout clash between Sweden and Portugal. All hopes rested on two of the best players of the world; one being Cristiano Ronaldo for Portugal and the other one none other than Zlatan Ibrahimović. A Swedish journalist was lucky enough to interview their national football hero about the outcome of the game. At first the striker was non-committal but once the reporter suggested it could be tricky to ask the deity, Zlatan said "Only God knows … You're talking to him now." It is this personality of Zlatan that every fan of his love along with his game. And now after the last friendly versus Estonia, he became Sweden's all-time leading goal scorer with 50 goals breaking a 82 year old record set by Sven Rydell. Let's look back at his contributions as well as some of his controversies in international football.
ADVERTISEMENT
Article continues below this ad
Though he was eligible to play for Bosnia and Croatia, Zlatan chose to play with Sweden which was his place of birth. After having some good performances with Malmo, he was included in the country's squad in 2001. He was also part of the Swedish squad that got out at the round of 16 in the 2002 world cup. Though he started moving from one club to another his ability to score in international matches was questioned when he failed to find the net during the 2006 World cups. The goal drought lasted for 2 years with some controversies in the middle. One of them was when he violated the team curfew by leaving to a night club along with two of his teammates. Though they did not consume any alcohol, their manager Lars Lagerbäck sent them home and were not available for the match against Liechtenstein. Ibra became too unhappy with the decision that his manager made and refused to play the next two qualifier matches. It was some sort of a "self-imposed boycott" and that continued for around a month. But still that didn't end his goal drought. He ended it at the Euro 2008 opener but was just able to find the net 2 times. Those were the days when he was rising to fame at the club level after making a spectacular display with Inter Milan which eventually took him to Barcelona for a hefty transfer fee. But it did not go well for him at both international level as well as club level. He only managed to score two to three international goals during the years he spent at Spain and the controversy with then Barcelona manager Pep Guardiola reached its prime as it was reported that he threatened to beat up the Barcelona manager if he was not released to AC Milan where he was loaned the previous year.
In 2011 he scored just 3 goals out of the 11 matches played and many pundits questioned this because a player of his caliber was expected to perform much better. But those critics were slashed in style by him in 2012 when he scored around 11 goals in just 8 appearances. The year should be considered as one of the best years for him after he was made the national team's captain for Euro 2012. He didn't disappoint them as he was consistent throughout the qualification phase which included one hat trick against Finland. He also scored the goal of the tournament against Ukraine in the Euro 2012 finals. But despite the victory Sweden's Euro dream was thrashed as they were knocked out in the group stages itself. In the later 2012 he scored 4 goals against England. The match was known for his stunning 35 yard overhead kick which went on to win the Puskas goal of the year for 2013.
Having been trained in taekwondo he was known to be strong, agile, quick in the air and also had some stunning acrobatic skills using which he could strike a goal from near impossible situations. But he has also made use of these skills when he was alleged of kicking Antonio Cassano, Christian Wilhelmsson and Rodney Strasse or punching Ajax teammate Mido and even deliberately injuring his teammate Rafael van der Vaart. Putting all the controversies apart, Zlatan is one of the most unique footballers that you can find in the sport. His finishing cannot be matched by any other footballer in the current generation. This makes him one of the best as well as the most unique players the sport has ever seen. After all when a reporter asked whether his playing style is Swedish or Yugoslavian, this is what he replied.
"It's Zlatan-style"
#DARETOZLATAN