ICC Cricket World Cup 2019: Top 5 Catches
Published 07/14/2019, 3:45 PM EDT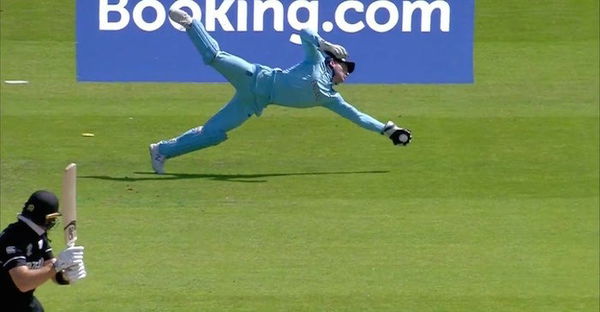 "Catches win matches" is one of the most heard quotes if you are follower of cricket. This Cricket World Cup has seen as many good catches as it has seen rain. That is quite a lot considering the amount of rain in the tournament, especially in the early half. From dropping sitters to taking blinders, this World Cup saw quite a lot of drama.
ADVERTISEMENT
Article continues below this ad
Here is a pick of the top 5 catches in the tournament. Interestingly, four of the top five picks have been from teams who have qualified for the semi-finals.
1. Ben Stokes vs South Africa-
ADVERTISEMENT
Article continues below this ad
"You cannot do that, Ben Stokes," screamed Nasser Hussain when Ben Stokes pulled off this one-handed blinder off Adil Rashid's bowling. Andile Phehlukwayo slog swept the ball and thought he had done enough to get it over the head of Stokes, who was a few inches within the boundary rope. But Stokes, at full stretch, put his hand up and the ball stuck.
2. Ravindra Jadeja vs England-
Not many times will it happen that you are talking about best catches and Ravindra Jadeja isn't in the discussion. Running in and leaping forward from long on, Jadeja's catch was certainly one of the catches of the tournament.
Jadeja might have played only two matches in the World Cup but has certainly made a huge impact coming in as a substitute fielder in almost every match.
3. Sheldon Cottrell vs Australia-
Sheldon Cottrell has been one of the most athletic fielders and has made more than one noteworthy contributions in the field. But his catch to dismiss Steve Smith still makes you wonder how he managed it. If 'plucked it out of thin air' needed an explanation, Cottrell's catch would be the best demonstration. And the catch had more to it. After plucking it out of the air with his left hand on the sprint, he then put the ball in play as he was running into the boundary, and then recovered to claim the catch.
4. Martin Guptill vs Australia-
Steve Smith was once again a victim of some breath-taking catching. Martin Guptill it was, this time around. Standing well within the 30-yard circle at 45 behind square on the leg side, Guptill took a one-handed stunner after Smith though he had pulled the ball away for a boundary.
ADVERTISEMENT
Article continues below this ad
5. Jos Buttler vs New Zealand-
Buttler, the only Wicket keeper in the list, took a catch that was all about movement. He moved with the ball which was down the leg side. Then with the maximum stretch that his body could afford, managed to hold on to the catch to dismiss Martin Guptill.
ADVERTISEMENT
Article continues below this ad