" I'm Trying To Get Flavia Back" – Fabio Fognini Talks About Pennetta's Comeback
Published 04/20/2020, 12:20 PM EDT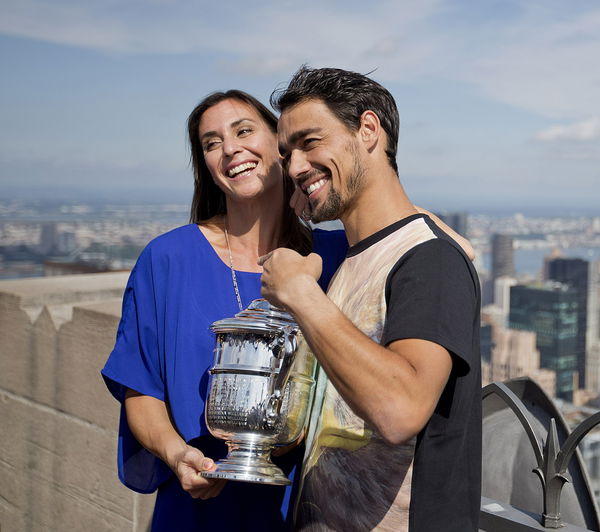 ---
---
In 2015, we saw Italian tennis player Flavia Pennetta win her first grand slam at the US Open. That was also the last time she played professional tennis as she retired after her win. Good news for tennis fans, she is being convinced to return by her husband Fabio Fognini. Check it out.
ADVERTISEMENT
Article continues below this ad
Fabio Fognini Is Convincing Flavia Pennetta
ADVERTISEMENT
Article continues below this ad
Recently, Flavia Pennetta and Fabio Fognini did an interview with Corriere Della Sera. During this interview, Flavia made a joke saying that you will get out of the coronavirus pandemic divorced or with your third child. To this joke, Fabio replied,
"Nooooo, it's too early! I would definitely like to have another son. But I'm trying to get Flavia back in 2021, like Kim Clijsters. I spoke to Schiavone and Barazzutti, they train her and I manage them. I already have the tournament program ready. "
He has made a comparison with Kim Clijsters because she has made so many comebacks. She made a comeback in 2020 but she could not follow through due to the coronavirus pandemic. Let's hope we will see Flavia make a similar comeback in 2021.
ADVERTISEMENT
Article continues below this ad
In the same interview, Fabio Fognini was asked whether he has had any thoughts of retiring during the suspension of the tennis season. He replied by saying,
"No. I'd like to quit when I'm still competitive, on my terms. I do not see myself from number 80-90 in the world to row in the challengers to move up the rankings. I am number 11 in the ranking, it is true that I have a few ailments, however, I would like to leave with some wins, another Masters 1000 maybe."
Fabio will most likely not retire any time soon. He played some wonderful tennis last year winning the Monte Carlo Masters beating Rafael Nadal. When the ATP tour resumes, I am sure he will win more.
ADVERTISEMENT
Article continues below this ad