"Impossible": Nets Coach Explains Bam Adebayo's Monster Block on Celtics' Jayson Tatum
Published 09/18/2020, 1:19 PM EDT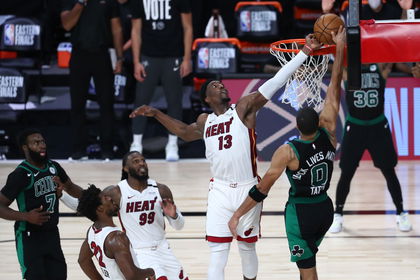 ---
---
The Miami Heat have already taken a 2-0 lead in the Boston Celtics. After eliminating the Bucks in the Conference Semi-Finals, the confidence of this Heat team is at an all-time high. And it's none other than Jimmy Butler who has made this possible.
ADVERTISEMENT
Article continues below this ad
When Butler signed a deal with the Heat, many were skeptical of Butler's decision. Honestly, at that time leaving Philly seemed like a bad decision. However, Butler proved his critics wrong and the Heat are just two games away from making a finals appearance in six years.
Although Butler is the glue that holds together this team, the pieces around him suit Butler perfectly. Bam Adebayo has taken one of the biggest jumps of the season. Not only did he became a first-time All-Star, but he has also carried that form into the postseason.
ADVERTISEMENT
Article continues below this ad
In Game 1 of the ECF, the Heat completed a huge comeback in the final stretch of the game and Bam capped it off with an insane block in the dying minutes. Brooklyn Nets head coach Steve Nash explained the mechanics of Bam's block on the JJ Reddick Podcast.
"It just looks like his wrist is there, but really his center of mass, jumping strength, power is informing how much force that wrist. He's an incredible athlete and his body moving, I think it represents a lot of force that we don't notice. It looks impossible but he's such an athletic, strong, physical, determined player.
"That's the only way I can see how it's possible that he didn't break his wrist, one or get flushed on."
As Nash pointed out, Bam couldn't have pulled that off if he wasn't insanely athletic and strong. Adebayo's efforts paid off as the Heat won the game and took another step towards the NBA Finals.
Can the Miami Heat advance to the NBA finals?
ADVERTISEMENT
Article continues below this ad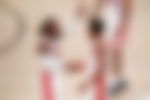 Ever since the trio of LeBron James, Dwyane Wade, and Chris Bosh broke up, the Heat haven't stepped foot in the NBA finals. But this year seems different, with Jimmy Butler leading the team, they might return to the biggest stage in the basketball world very soon.
They already have a commanding 2-0 lead over the Celtics and if they keep up this energy, the job will be over soon. Moreover, along with Butler, the supporting cast has done a great job this postseason. Goran Dragic, Jae Crowder, Tyler Herro, Duncan Robinson, everyone is playing at an elite level so far.
ADVERTISEMENT
Article continues below this ad
Will the Miami Heat make an appearance in the NBA finals or will the Celtics make a comeback? That's the question of the hour.