"In My 70s I'll Still Be Rocking!"-Bruce Buffer on a Second 360
Published 05/30/2020, 7:55 AM EDT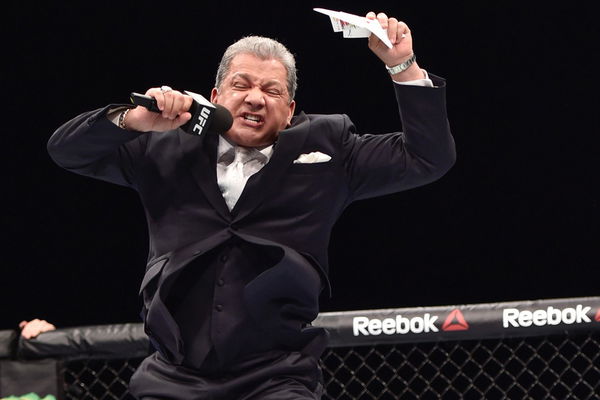 ---
---
Bruce Buffer is as integral a part of all UFC events as the Octagon itself. The "Veteran Voice of the Octagon" has been a part of the promotion ever since its golden era.
ADVERTISEMENT
Article continues below this ad
The announcer channelizes the energy of the crowd into the mic to get spectators ready for the fight that approaches. Of course, he also knows to execute the maneuver in reverse, channeling energy into the crowd for any fight.
A phrase as simple as "It's Time!" gets the crowd on their feet, for they know there is something huge coming. Describing the same on Ariel Helwani's show, Buffer said,
ADVERTISEMENT
Article continues below this ad
"You know me. I'm full of passion. And I'm full of drive. And when my passion [vains] for what I love to do in life, which is my beloved UFC and my office, the Octagon, then I'll probably come onto your show and say I'm gonna retire."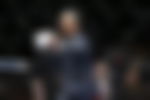 The UFC Universe is so used to Buffer's voice, that the thought never occurred. However, Buffer put the fans' minds regarding the problem to ease before it could arise. When Ariel asked whether Bruce has thought about retirement, he said,
"Yeah, I've thought about it. I think 10+ more years. I told you, man. I'm in shape, I'm ready to rock! I'll go out there and take on any 30-year-old tomorrow morning. No problem!"
Will we see another "Bruce Buffer 360"?
At UFC 100, Buffer decided to up the scale of the flair he brings inside the Octagon. On persistent advice from Joe Rogan, Buffer made the 360-degree jump instead of his regular 180 for the main event, Brock Lesnar vs. Frank Mir.
ADVERTISEMENT
Article continues below this ad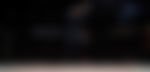 Ever since then, fans have longed for a second 360 jump. However, here's what he said regarding the same:
"No, the 360 is one and done. But can I do it again? Of course, I can. Joe Rogan and I actually discussed that. And he came up [and said], 'You know, you should never do that again. It will be remembered forever.' And I said, 'You know, I was thinking the same thing, Joe.' Again, the show is not about me, but if that's a moment that'll last forever? Let's keep it that way. Can I do a 360? I can do it right now! No problem."
ADVERTISEMENT
Article continues below this ad
Talking about whether he would execute the 360 in his last fight announcement, Buffer said, "Well, let's see if that's at 72 or 65. We'll decide at that time. You better believe that in my 70s, I'll still be rocking!" 
When do you think we'll get to see the 360 again?