In Numbers: Mercedes Win 6th Consecutive F1 Constructors Championship at the Japanese Grand Prix
Published 10/13/2019, 3:06 AM EDT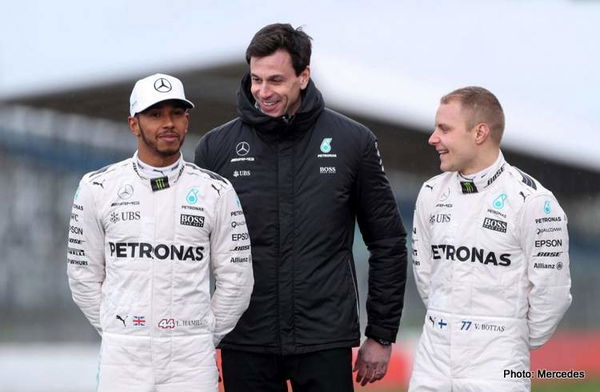 The era of Mercedes F1 began in 2014. A year had passed since Lewis Hamilton had joined the team partnering Nico Rosberg. In 2013 they had taken victories but they were not nearly as competitive as Red Bull. Come 2014, things changed entirely.
ADVERTISEMENT
Article continues below this ad
Since 2014, six years have passed. And Mercedes has taken all six constructors and drivers championship. With the 2019 Japanese Grand Prix, not only did the team ensure they took the constructors championship, they also signed off the Ferrari duo and Max Verstappen from the drivers championship thus ensuring only Valtteri Bottas and Lewis Hamilton are in contention of the same.
In this process, they broke many records starting from being the only team in Formula One's history to take 6 consecutive double world championships. They are certainly among the most successful teams in the history of the sport. In 2014 they broke McLaren's record from the 1998 season by taking 11 one-two finishes. In 2015, they broke it once again by taking 12 one-two finishes. Since 2014, up to the 2019 Japanese Grand Prix, Mercedes has taken 47 one-two finishes. A remarkable feat, indeed.
Further, by taking 16 victories in 2014 and 2015, they broke another record of most victories in a season, jointly held by McLaren and Ferrari before. Not only this, they broke the same record further again by taking a mammoth 19 race victories in 2016.
ADVERTISEMENT
Article continues below this ad
Talking about Pole Positions, they have taken a staggering 92 pole positions so far out of 117 races since 201, implying a percentage of 78.6%. In 2016, thing went a bit more crazy when they took 20 out of 21 pole positions. In terms of podiums, they have taken a total of 174 podiums from a possible 234. The numbers just speak for themselves.
Out of the 117 races since the beginning of the turbo era in 2014, Mercedes have won 86 races, making it a win percentage of 73.5%. The numbers are insane and every hardwork the team has put in to achieve this is certainly worth it.
Lewis Hamilton has been the star of the team winning every championship since 2014, apart from the 2016 one where his arch rival Nico Rosberg took a remarkable championship. 2016 saw a very fierce rivalry between the two Mercedes drivers but with Rosberg retiring immediately afterwards, Valtteri Bottas was signed on and peace was restored within the team.
Over the course of years, the team has gained many fans and naturally they were at their best wishing the team for the remarkable achievement.
Ummmm….can't quite believe it but I've just become a 6 times #f1 world constructors champion! Unbelievable, simply unbelievable. I'm going to celebrate with some toast with extra jam! @MercedesAMGF1

— TrickyF1 (@TrickyF1) October 13, 2019
YYYEEESSSS!! I'm so happy for you all. What an unbelievable 6yrs, 6 championships in a row!
Another record broken by this unstoppable team. You've absolutely smashed it since 2014. Such a proud fan right now, so much love for you guys ❤️ 🏆👏🏻

— Tom Hallam (@TomHallamF1) October 13, 2019
WE ARE THE CHAMPIONS MY FRIENDS!!!
It's 6 constructors championships in a row for @MercedesAMGF1, an unprecedented achievement in Formula 1!
I'm so happy for this team, they've absolutely smashed it from 2014 to now. Absolutely incredible, congratulations to the whole team! 🏆👏🏻

— Tom Hallam (@TomHallamF1) October 13, 2019
ADVERTISEMENT
Article continues below this ad
Only Hamilton and Bottas remain in the title hunt. That means that Mercedes will become the first team to win six consecutive Drivers' and Constructors' titles!#JapaneseGP #F1

— Lights Out ●●●●● (@LightsOutF1Blog) October 13, 2019
ADVERTISEMENT
Article continues below this ad
But in the wake of the celebration, lets dig more into the team's past. Mercedes acquired Brawn GP from Ross Brawn in 2010 having Michael Schumacher and Nico Rosberg as their drivers. Schumacher retired again in 2013 and Lewis Hamilton took over alongside Nico Rosberg. By that time, the team had gone from being a low mid fielder to a respectable upper midfield team, with Rosberg taking the team's first victory at the 2013 Chinese Grand Prix. Rosberg was with the team till the end of 2016 season after which he retired to spend more time with his family. Valtteri Bottas took over and has been partnering Lewis Hamilton since.