India retain Top Position at the Asian Athletics Championships on Day 2
Published 07/08/2017, 9:12 AM EDT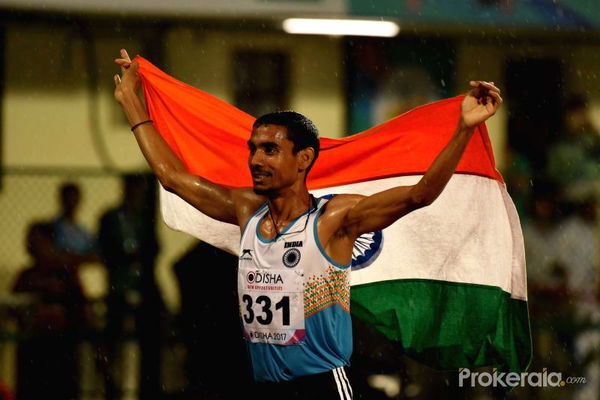 ---
---
Hosts India managed to retain their top position at the medals tally after a strong performance at the second day of the tournament. Indian athletes bagged a total of 8 medals on Day 2 including 4 gold, 2 silver, and 2 bronze. The total medals for India racked up to 15. Nirmala Sheoran and Muhammad Anas bagged gold in women's and men's 400m respectively. PU Chitra and Ajay Kumar Saroj clinched gold in respective 1500m races.
ADVERTISEMENT
Article continues below this ad
Rajiv Arokia came second to Muhammad Anas in the 400m final winning silver for him whereas Jisna Mathew came managed a bronze in the women's 400m. Tejinder Pal Singh Toor added one silver to the medals tally in the shot put and women sprinter Dutee Chand settled for a bronze in the 100m dash.
Muhammad Anas broke the 45 second mark in the qualification round which was the first time for any Asian athlete. His supremacy in the event was expected after his strong display all round the year. He set and broke his own national record twice this year. He finished the 400m final clocking 45.77. His compatriot Rajiv Arokia finished second with a timing of 46.14.
ADVERTISEMENT
Article continues below this ad
"It's a dream come true. I was emotional after winning today since I ran four races in two days," said Anas to TOI.
In women's 400m Nirmala Sheoran clocked 52.01 to win the gold. Jisna Mathew finished third (53.36) behind Vietnam's Qauch Thi (52.78). Sheoran qualified for the World Championships by securing gold in this event. Anas on the other had already qualified earlier this year."I knew I could win today but the rain and delay in the race led to slow timing. We have been waiting for long after warm up and it affected the timing. I am very happy to have done the country proud. Now my target is World Championships," Sheoran said
India's surprise elements turned up in the 1500m races where both the men's and women's events were rather unexpectedly bagged by the hosts. Both young Chitra and Saroj were arguably not the favourites for the events taking their fierce competition from China and Japan into consideration. Chitra clocked 4:17.92 to finish over a second of Geng Min from China. Ajay, on the contrary, had a closer finish with 3:45.85. It is the first major international title for the 20-year-old.
ADVERTISEMENT
Article continues below this ad
"I will not say that I was expecting gold but I prepared my best, thinking that anything can happen. This is my first major win in a senior international event," Ajay said.
The crowd favourite Dutee Chand, entangled in a gender case, had to settle for a bronze behind two Kazakh sprinters which held her from qualifying for the World Championships next month. She clocked 11.52 which was slower than Viktoriya Zyabkin's 11.39 and Olga Safronova's 11.45. "I will not say that I am disappointed. I am happy with a bronze in front of my home crowd and I will take it. I thought I would at least qualify for the World Championships but could not do it due to rain. The conditions are not good for the 100m dash," she said.
"We are expecting at least five gold medals in the next two days and that will take us to our historical best performance. We can do that this time," said Athletics Federation of India Secretary C K Valson.
ADVERTISEMENT
Article continues below this ad
China currently occupies the second position in the tally below India with 4 gold, 2 silver and 2 bronze medals to its name.