Indian Super League: A look at the Contenders
Published 10/11/2014, 1:50 PM EDT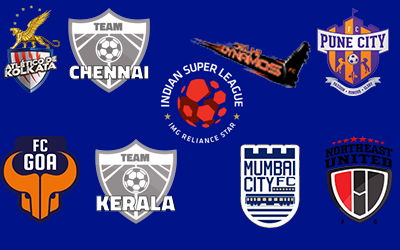 ---
---
So the much awaited ISL is here with less than a day to go.
Here are few the  things that you need to know about the teams and the marquee signings.
ADVERTISEMENT
Article continues below this ad
So starting with the most expensive team
1. Atheletico de Kolkata
Marquee Player -Luis Garcia
The first official side to be announced by the Indian Super League, after the owners of the club. Kolkata Games and Sports  won the bidding for the city's franchise football team. With the likes of Sourav Ganguly being  part of the investment team, the franchise is part-owned by Spanish side Atlético Madrid hence the similarity in kit colours and is the most expensive franchise in the league. The team will be managed by Antonio López Habas – who took charge of Bolivia and Valencia among others before coaching in South Africa – and its marquee signing is ex-Liverpool star, Luis García. While he originally retired playing for Pumas in Mexico at the start of the year, García reversed his decision to play in the ISL. Garcia was the part of 2005 champions league winning liverpool squad.
2. Chennaiyan FC
Marquee players –Elano, Bernard Mendy, Mikaël Silvestre, Marco Materazzi (player Manager).
Bollywood actor and producer Abhishek Bachchan stepped in as the key investor in August. Victim of famous Zidane headbutt and World Cup winner Marco Materazzi takes on the role of player-manager in what will be his first club since leaving Inter in 2011 and first staff position anywhere  and his primary focus will be on coaching during his time in India. He has a number of ex-Premier League players at his disposal , the most prominent of them being Elano (A former Manchester City player). The man was signed during the Thaksin Shinawatra era spent two seasons in Manchester before spells in Turkey and most recently Brazil. He is the club's official marquee player  and will line up alongside Bernard Mendy, former Manchester United youth team player Bojan Djordjic and Mikaël Silvestre.
ADVERTISEMENT
Article continues below this ad
3.Delhi Dynamos
Marquee players –Alessandro Del Piero
One of the most talked-about franchises in the ISL. The side from the country's capital have made headlines with what is probably the biggest coup in terms of transfers, following the announcement that Alessandro Del Piero would be playing for the Dynamos as their marquee signing. The man who has made over 500 appearances for Juventus and over 90 for Italy was announced by the club towards the end of August, who has spent his last couple of seasons at Australian A-League side Sydney FC after leaving Juventus in 2012. Despite interest from elsewhere, Del Piero was persuaded to join the inaugural league while Sydney FC brought in David Villa as his replacement. The manager, Harm van Veldhoven, has spent most of his managerial career managing average Belgian clubs and Del Piero's team-mates look equally uninspiring, the squad being filled out with various footballers who played in the Eredivisie and Jupiler League. Like Atlético de Kolkata, they have a link to a big European club – in their case Feyenoord.
4.FC Goa
Marquee Manager Zico
Marquee player(s) Robert Pirès, André Santos
Another frequently mentioned franchise in the Indian Super League, FC Goa ensured that big names form a major part of the team including  the owners, players and manager,  all harbouring their own kind of weight. The owners include Indian businessman Venugopal Dhoot and there was a rumour that cricketer Virat Kohli  would be making an investment too. Brazilian legend Zico  has left Qatari side Al-Gharafa to take up his role in India. As for the marquee player in their side, Arsenal and France luminary Robert Pirès takes that mantle following his announcement in early September and is part of the invincible squad. He is known for his goal scoring ability and has a great vision. This will be the first professional football game the 40-year-old will play since leaving Aston Villa in 2011, and he will play alongside another Arsenal player André Santos.
5.Kerala Blasters
Marquee player(s) David James, Michael Chopra
Probably the weakest team in the Indian Super League on paper, the Kerala Blasters is co-owned by Sachin Tendulkar and entrepreneur Prasad V Potluri. The name of the team has been derived from the nickname of its co-owner. David James, one of the two player managers in the ISL is also the marquee player. He will be act both as  a player and as a coaching staff member. He was 1st choice England Goalkeeper for some time , so one can expect good performance from him in the field. The Englishman will be taking charge of the team. While the Brits make up most of the team, the Blasters have also recruited two young Brazilians Erwin Spitzner and Pedro Gusmao.
6.Mumbai City FC
Marquee player(s) Fredrik Ljungberg, Nicolas Anelka
ADVERTISEMENT
Article continues below this ad
Another ISL side whose investment involves a Bollywood film star, Ranbir Kapoor being the co-owner of the franchise. Mumbai City FC consists of  English players in their managerial team. They are led by Peter Reid, a former Manchester City and Sunderland manager who takes on his first job since leaving Plymouth Argyle in 2011.  He managed Thai national team for a year in 2008-09. Arsenal legend Freddie Ljungberg is the club's marquee player. Nicolas Anelka has also been given a route back into professional football after the controversy at West Brom last season. Anelka has proved his scoring ability with teams like Chelsea ,Juventus etc.
The only worry is his discipline off the pitch which  looks like an astute acquisition up front . While German defender Manuel Freidrich who was drafted in on a free transfer by Borussia Dortmund last season as injury cover and should be a solid signing at the back.
7.North-East United FC
Marquee player(s) Joan Capdevilla
Without necessarily having the big names that some of their competitors can boast,  NorthEast United FC have subtly gone about their business to create a reasonable-looking side to compete, representing one of the biggest areas of the country. John Abraham is promoting the team and  is being managed by New Zealander Ricki Herbert. Spanish left-back Joan Capdevilla is the club's marquee signing. He was released by La Liga club Espanyol at the end of  last season. Capdevilla will bring along a wealth of experience to the side. Capdevilla will be vital at flanks for his trademark crosses. Another notable signing is English striker James Keene, who has spent the majority of his career playing in Sweden.
ADVERTISEMENT
Article continues below this ad
8.FC Pune City
Marquee player(s) David Trezeguet
Bollywood star Salman Khan linked up with Italian club Fiorentina to purchase the Pune franchise. The influence of the Serie A club at FC Pune City is discernible with four Italians on their side for the upcoming season, as well as an Italian manager and a backroom staff chock-full of Italians. They are managed by Franco Colomba a 59 year old coach who has managed 16 separate Italian clubs since the early 1990s prior to joining Pune City.  David Trezeguet's is the name that stands out of course: the 36-year-old French international is likely to be as prolific as he has ever been throughout his career that most recently took him to Argentina, where he grew up, for spells at River Plate and Newell's Old Boys. Trezeguet was one of the most feared striker of his time,with great poaching abilities he surely will be amongst the top scorers as the league unfolds. Along with his skills he brings bundle of experience. Being a world champion and wining treble with Juventus has a lot to offer to league and youngsters.