WATCH: Glitch in Spider-Man: Miles Morales Turns Miles Into 'Another Brick in The Wall'
Published 11/17/2020, 1:52 PM EST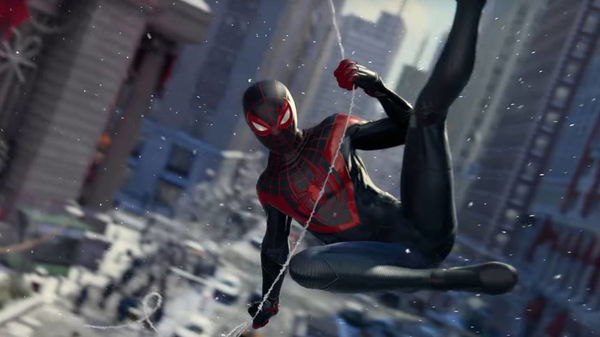 PS5's most-hyped game, Spider-Man: Miles Morales, won us over with its amazing visuals and gameplay style. Although it is a standalone title, Miles has some big shoes to fill being the successor to the PS4 Spider-Man. As of now, it looks like the game will live up to its hype.
ADVERTISEMENT
Article continues below this ad
Further reading: Call of Duty Black Ops Cold War Makes History With Sales; Studio Promises 'Incredible Amount of Free Content'
The Daily Bugle series that Sony had begun prior to the game's release shows the various suits Miles will get to wear as he swings his way through Brooklyn. Apart from all the various Spidey suits available in the game, recent footage shows that you can play the game as a brick, proving that even though he is special, "all in all he's just another brick in the wall".
ADVERTISEMENT
Article continues below this ad
No, I'm not trying to be poetic here. It's quite literally so!
Further reading: Fortnite Hints at the Arrival of Marvel's Fan-Favorite Superhero as Part of Crossover Season
All in all, it's just another Spidey on the wall
Jokes apart, this glitch was recently spotted by Rob Sheridan, the creator of 'High Level Comics'. He posted a tweet demonstrating this issue.
According to Sheridan, he collided with a wall in the game and that turned Miles into a literal brick. Before we delve into whether the brick was radioactive, let us take a look at this glitch once.
ADVERTISEMENT
Article continues below this ad
Sheridan posted a reply to his tweet stating that this glitch did not continue for long and disappeared when he tried to pick a fight as "Spider-Brick". He said that the playable character turned into a white cube, and the game crashed soon after. On returning to the game, he was plain old Spider-Man again.
I tried to start a fight as Spider-Brick and he turned into a white cube and crashed the game. Now I'm just boring old Spider-Man again. Thanks for the memories, Spider-Brick.

— Rob Sheridan (@rob_sheridan) November 14, 2020
ADVERTISEMENT
Article continues below this ad
No matter how funny this is, it seems to be a serious glitch nonetheless. Currently, it does not seem to be a persistent issue, and maybe even not a widespread one, but it is good to nip it in the bud. Maybe devs will fix it soon in the upcoming update patch cycle. Until then, pretend that in this universe, Miles got bitten by a radioactive brick.