Instant Karma: Nadia Kaseem Got Knocked Down After Throwing a Dirty Leg Kick
Published 10/07/2019, 4:26 AM EDT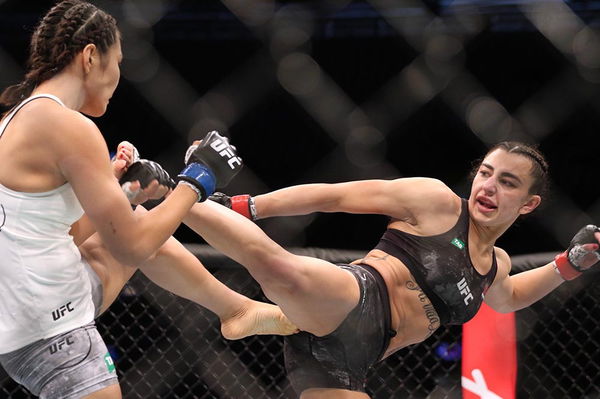 ---
---
UFC 243 is in the books now. Last night was arguably the biggest night in UFC history since UFC 243 had an attendance of more than 57,000, which is the highest attendance recorded for any UFC event. We saw a fair amount of Australian fighters last night since the event was in Melbourne and Nadia Kaseem was one of the Aussie fighters in the card last night and she did not catch people's attention for the right reasons. 
ADVERTISEMENT
Article continues below this ad
It's fair to say that Israel Adesanya was the show-stopper last night. His electrifying entrance, clinical performance inside the octagon and his post-fight call out to Paulo Costa made the UFC event look like Wrestlemania as said by former heavyweight champion, Daniel Cormier. However, we also saw another incident that resembles the trickeries from pro wrestling textbooks. 
Nadia Kaseem fought Ji Yeon Kim in the early prelims of UFC 243. She was fighting on home soil so the pressure on her to win the fight was tremendous. However, she did not win a lot of hearts with the way she started the fight. 
ADVERTISEMENT
Article continues below this ad
Nadia Kaseem offered to touch gloves by raising her right hand after the fight started. Her opponent Ji Yeon Kim acknowledged the offer by extending her arm to touch Kaseem's glove. However, the Aussie female fighter had something else in her mind as she threw a leg kick to the body of her opponent in the disguise of the touch glove.
ADVERTISEMENT
Article continues below this ad
Ji Yeon Kim kept her calm and tagged Nadia Kaseem with a left hook while Kaseem was rushing to take advantage of that dirty leg kick. The referee does say "Protect yourself at all times" before the fight starts. However, that leg kicks by Kaseem was distasteful, to say the least.
Ji Yeon Kim went on to win the fight via stoppage in the second round. Kaseem was hurt badly as she was not able to defend the shots coming from Kin properly. It was a vicious jab that snapped back Kaseem's head and it was the beginning of the end. Ji Yeon Kim saw the opportunity and landed some heavy shots to the head and a couple of shots to the body as Kaseem tried to curl and save herself from more damage.
ADVERTISEMENT
Article continues below this ad
Even though the fight started with the dirty leg kick from Nadia Kaseem, it was Ji Yeon Kaseem who had the final statement as she knocked out Kaseem on her backyard, Melbourne, Australia.