Exclusive interview with Dimple Sehrawat – the Indian Fencing star
Published 04/30/2017, 1:20 PM EDT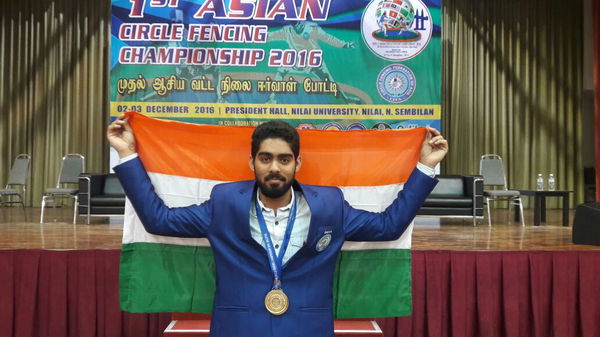 ---
---
Far from the cheesy, crass jokes about his name, I fall short of words to introduce Dimple Sehrawat. A warm smile, incredible humility and the largesse of a typical Jat gentleman describe this national-level medallist. Having progressed in a sport largely understood as a proxy for sword-fighting, Dimple is one of the few Fencing specialists combatting not just opponents but lack of support and inadequate funding as well. In a candid conversation, ES unravelled the man behind the Fencing gear.
ADVERTISEMENT
Article continues below this ad
https://www.youtube.com/watch?v=6zfVEuDdP3w
Hi Dimple. Thanks for giving us the opportunity to interview you. I feel there isn't enough knowledge about Fencing as a sport. Why is that so?
ADVERTISEMENT
Article continues below this ad
You are right on that account. Unfortunately, media hasn't bothered to cover our sports and hence not many people know about this game. Recently an Indo-French collaborative camp was organized and the media covered the event because the French ambassador was gracing the occasion. Similarly, the media was 'forced' to cover the nationals in December last year because Sports Minister, Vijay Goel had come.
So, is it that when a personality graces a tournament only then the athletes and their performances get coverage?
More or less, that is the case. Somehow the sport hasn't been able to grab as many eyeballs and probably that's why the media doesn't bother about us. You'll be surprised to know that Fencing is one of the five events that have been a part of every edition of modern Olympics – the other four being athletics, cycling, swimming, and gymnastics.
I wasn't aware of that fact. Why don't you actually explain us what Fencing is?  Invigorate us with its history and the nuances of the modern format.
Sure. I hope people can use this as a guide *giggles*.
Fencing is a combat sport based on the traditional sword-fighting and primarily originated in Europe. Today, we play the French-modernised format under the guidelines recommended by Fédération Internationale d'Escrime (FIE). There are three formats – foil, épée, and sabr. Foil and épée are old formats while sabr has recently evolved as a fast-paced version. All three versions have different body-impact zones, weapon, equipment and electric wiring.
Electric Wiring!?
Yes. Fencing involves a wiring circuit attached to the competitors' body. This body cord serves as the connection between a fencer and a reel of wire that is part of a system for electrically detecting that the weapon has touched the opponent.
I play épée. The whole body is the impact zone. Hence the guard is the biggest among the three versions. It involves slow movements but the competitors can advance strategically by attacking quickly. In épée, both the competitors can gain a point by touching the opponent simultaneously. This feature is not available in the two formats and hence the point marking is dependent on the jury's discretion.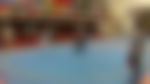 Sword-fighting and now electric wiring – Fencing sounds like an extremely dangerous sport.
Quite the contrary. The weapon is made of stainless steel and harmless against the protective gear. Electric wiring is an exciting feature that drew me towards the game. It leaves the results little to chance and the adrenaline rush when you see your lamp light up is extremely thrilling. I started playing the sport in 9 grade and I am in my first year right now. Not once have I been hurt.
That brings me to my next set of questions. How did you associate with Fencing? What was the initial inspiration to take this lack-lustre sport?
I am a student of St. Mary School, Dwarka.I used to be a member of the sports gang that would play a variety of sports in school. We would play basketball and volleyball. We represented school at the state-level competitions every year. In 9, our HOD of Physical Education mentioned that Fencing was also an event in state tournament at N.K. Bagrodia Public School. We participated alongside other sports.
But without any preparation or prior knowledge about the sport, how could you compete? Further, what about the equipment?
We were provided the equipment by the authorities itself. They had made provisions for all of us. Our HOD was a good friend of the person responsible for organizing Fencing. We had a few training bouts and instantly my height stood out as a distinct advantage. I found Fencing stimulating and against the thrill of a smash in volleyball or a three-pointer in basketball, I'd choose Fencing any day.
We played the tournament. I won the bronze medal and qualified for the nationals. My height really benefitted me a lot. Even if an opponent tried, I would counter-attack and take an easy point. It felt very natural. The initial days with the weapon, learning strategies, hand-movements, body postures excited me immensely. After winning the medal, I was sure this is what I wanted to do and since then, I have never looked back.
Such serendipity I must say. Some things are just meant to be. A chance trial at a sport and here you are – describing your success story. Tell us more about how you followed Fencing ahead.
Haha. You are right. I played the nationals in the same year. I participated in the individual and team events. We won the gold medal in the team event and individually I secured the silver medal. I have played the under-14, under-16 and now I have graduated to the under-20 category.
I have consistently played state and national tournaments every year. I started training in Delhi but currently I train for 6 days at the Yamuna Sports Complex. I spend 3 hours travelling every day. Since the last 4 years I have consistently worked on my technique and optimized my body movements to suit my strategy. Camps like the Indo-French collaboration are certainly a boost as the coaches teach the latest techniques and we come back and work on them here.
How have you managed your studies alongside this heavy schedule? In our country, academics mark an important benchmark for parents.
With God's grace, I have been able to segregate my activities efficiently. When I am training, every second I am thinking about improving my game. Similarly, when I was in school and even now in college, I look towards keeping my grades and scores in check. This strategy has helped me achieve 85% in 12 CBSE Board examinations. I loved Geography – plotting maps, drawing up rivers and lakes, studying the weather patterns etc. really intrigued me.
With my national certificates in place, I was able to secure a place for myself in Deshbandhu college, DU in Kalkaji under the sports quota. I should have been able to get a seat in Khalsa college as well, but the authorities there didn't accept the lone application they received from Fencing. The college has been extremely supportive. They made provision for my equipment and gears as I had requisitioned. Further, if I am out participating in competitions or camps, they are adjusting enough to postpone my assignment or internal deadlines.
Can you elaborate on the role played by your parents in your success? How crucial has their support been to you?
Whatever I am today is because of my parents' support. Letting a 14-year old travel the depths of the country all by himself is hard for any parent. But they never stopped me. They were always encouraging when they discovered I played a sport so heavily unknown. My parents knew I didn't study a lot and appreciated my passion to pursue sports. So, they haven't expected a lot from my studies. Whenever I have felt low about my prospects, they would cheer me up with backup options and always show the positive side of life.
They have been the sole sponsors for my Fencing training. Recently, I had to visit Malaysia for the tournament participated by the Circle Fencing Federation of India. We had to pay a sum of Rs. 50,000 for travel, lodging and registration. It's not a small amount and yet, my parents didn't raise a finger when I asked them. I made them proud by winning the gold medal.
You have mentioned that your parents have been sole sponsors as of now. What support have you been receiving from associations, federations and the government?
Initially there wasn't much support. Recently, the Delhi State Federation has started taking initiative. Our train travel fares are discounted by 50%. We further receive scholarship of Rs. 5,000 every year if we manage to secure a bronze medal at the nationals. The scholarship can be as high as Rs. 20,000 for the gold medallist, but that's about it. In comparison, Haryana federation offers scholarships to the tune of Rs. 3 lakhs for the same gold medallist.
But Fencing undoubtedly requires expensive gear. Further, added to it is the coaching fees and nutrition costs. Five thousand per year for a national medallist is too meagre an amount.
Well, there isn't much we can do. We are now used to it and look to give our best. The scholarship arrives a year later and it's we who have to run hard to procure the money earmarked for us. We work around with gears buying low-grade Chinese products and try to give our best with them itself. We have pursued our coaches to push for improvements, but it's the system that seems to have bound all of us.
See it is a matter of investment. Sakshi Malik achieved the bronze medal and then was showered with large sums of money and wealth. Imagine if the athletes are sponsored prior to their competitions – during their training and grooming phase. The American and English sports federations work along the same lines. They invest a fixed sum on every athlete. Results are in front of all of us.
Dimple, if I were to tell you that you have won a medal at the Olympics in Fencing today, what would you see as having changed in the system and propelled you to achieve this feat?
This is a tricky question. It's every sportsperson's dream to win the coveted medal for the nation in his/her sport. Make the nation proud on the international stage. But to get there is a lot of hard work and effort that needs to be done by the sportsperson and the country as well.
ADVERTISEMENT
Article continues below this ad
I am doing every bit to excel in my Fencing and be the number one in my format and category. Yet, there are times when I am demoralized and I see the prospects floundering. It's the kids practicing in the academy that give me the maximum joy at those times. They look up to me and I feel that there is so much we have to do for them. There is so much I have to do.
We need to spread the sport as much as possible firstly. I have gone to my school and given classes to juniors. Right now, there are only 30 applications in Fencing for the sports quota merit list. That number must go up. Further as I have mentioned earlier, it's the pre-achievement phase when athletes need support and funding. Not later. Once we have arrived, there are various other channels to take care of us. So many sportspersons and athletes can't achieve their dreams because of inadequate funding.
We are yet to achieve medals in international tournaments. While we may not be winning, it is imperative to gain experience so that we can know where we need to improve. Where we are lagging behind and where are weaknesses lie. If I am even going to qualify for the Olympics, forget winning a medal, I must have played many international bouts, won them and even trained at various countries under different coaches. All this while extremely crucial, is impossible to achieve without funding. Even I want to see the day when I don't have to ask my parents to sponsor me. That's the dream I want to live. It's only uphill from there.
ADVERTISEMENT
Article continues below this ad
Thank you so much for baring your heart out. I am sure there are many voices listening to your struggle and will want to support you in every way possible. ES wishes the best for you.
This interview was conducted due to a collaboration with India For Sports and EssentiallySports. We would really like to thank Dimple and India For Sports for providing us with this opportunity. For our reader, we'd really like you to help Dimple reach his goal. Here is the link where you can support Dimple: https://www.indiaforsports.com/campaign/dimple-sehrawat