IPL 2018 Final: When M.S Dhoni Trolled Sanjay Manjrekar
Published 05/28/2018, 8:43 AM EDT
By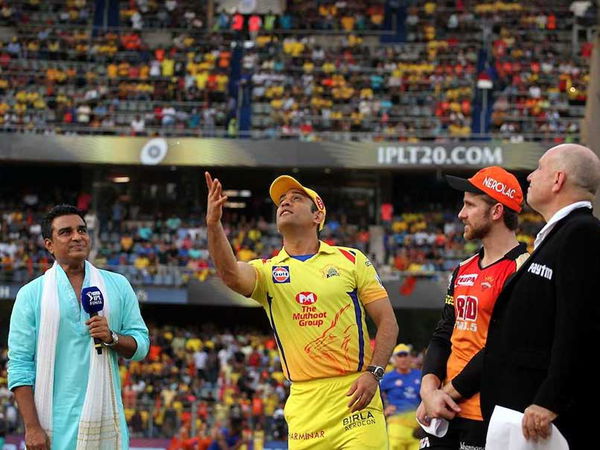 M.S Dhoni is known to be quite unpredictable on the cricket field. From surprise run-outs, to ingenious tactics his bag seems to be full of tricks. But he can also often turn out to be unpredictable with the way he conducts himself. At one moment he gives out an impression that he is the most serious, focused guy on the field; at the very next moment he might end up pulling a prank on you, without you realizing it. Sanjay Manjrekar who became a victim of Dhoni's latest prank would understand his pretty well now.
ADVERTISEMENT
Article continues below this ad
Sanjay Manjrekar was conducting the toss for the IPL 2018 finals at the Wankhede Stadium on Sunday evening. The Chennai Super Kings captain was asked to toss the coin and Kane Williamson, captain of the Sunrisers Hyderabad was to make a call. As he tossed the coin in the air, Williamson called out 'tails'. However, the host Manjrekar seemed to have missed the call and asked MSD for a confirmation; "Did you call heads?"
The prankster in M.S Dhoni saw this as an opportunity and was all set to take the veteran player's case. He did not give a clarification to Manjrekar, instead pointed out at Williamson saying "No, he called tails." This left Manjrekar bemused. Perplexed, he again tried to clarify things, reaching out to Dhoni he asked, "Yes, you called heads". However, Dhoni was in no mood to let this end too soon. He again replied "No, he called tails."
Manjrekar was helpless and all the more confused. Looking at the man's situation the CSK skipper gave a cheeky, prankster smile and everyone broke into a laughter.
Well, it seems confused tosses are lucky for M.S Dhoni. Remember the 2011 World cup final toss?