Is Conte responsible for Chelsea's woes?
Published 10/18/2017, 6:09 AM EDT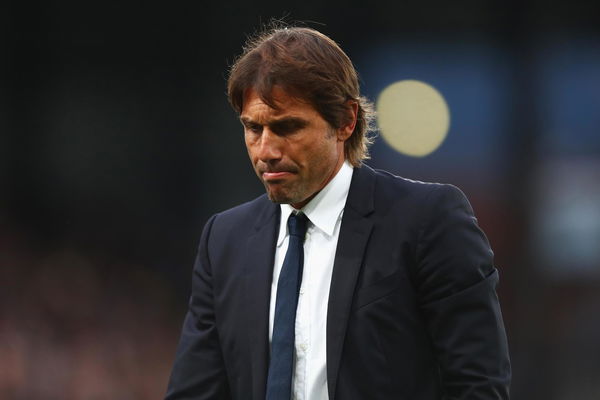 ---
---
Despite winning the title in comprehensive fashion last season, there was a degree of pessimism in Chelsea fans. This wasn't due to anything they saw on the pitch or anything they did not like about their coach Antonio Conte. The negativity arouse from history. The last two times Chelsea had won the title, the club did not capitalize on it, ultimately costing both managers their job. In football, if you wish to sustain success, you have to always improve. Over the summer how Chelsea once again failed to do so is well documented. The repercussions of it are already starting to show as a few injuries have left Chelsea with a  paper thin squad.
ADVERTISEMENT
Article continues below this ad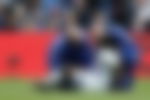 Chelsea has won only 1 of their last 4 league games. The weekend's loss to Crystal Palace, who were pointless and goalless this season coming into the match highlighted that there are reasons to worry for the Chelsea faithful. The big question is, who is responsible? Is it only the board, who did not do their job properly in the summer? Are the players simply not turning up? Or Does the buck stop at Antonio Conte's desk?
ADVERTISEMENT
Article continues below this ad
While blaming Conte wholly for the problems would only be scapegoating, which has been common at Chelsea for many years. The truth remains that Conte isn't faultless this season. Some of his decisions have turned out to be mistakes. Infact, some of his actions are shockingly similar to things Jose Mourinho did in that dreadful 2015/16 season. Conte might just not be making similar errors  but also risks meeting an identical end in writing his own downfall.
So what are those errors that Conte had made?
Remember the tale of Ivanovic in 2015/16. The most average of players were making him look ordinary. He was consistently producing performances that were well below desired levels. Yet, he was always in the starting 11. Anyone who has regularly seen Chelsea play this season will concede that Willian has been terrible. Again like Ivanovic, he has continued to maintain his place in the starting line up. Many Chelsea fans for years have testified to the fact that Gary Cahill should be upgraded on. Andrea Christensen and Antonio Rudiger have produced top-notch performances everytime they have been called upon. Yet, we see the newly appointed club captain as a first choice starter. The only issue with this isn't that players who are bound to perform better are denied chances, it is also setting a dangerous precedent for other players who could get complacent about their spot in the lineup.
Not playing the youth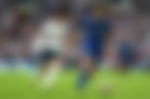 Andrea Christensen is widely described as the best academy graduate since John Terry at Chelsea.  Despite putting in excellent performances against teams like Spurs and Manchester City, he finds himself on the bench when every first choice player is fit and available. If he wasn't a Chelsea academy product, every top club in the land would have been putting in 50 million bids for him including Chelsea themselves. Yet he has to rely on injuries and suspensions to get minutes for the club.
Moreover, there is Charly Mosounda. In his position, Eden Hazard has been slowly brought back into the team after breaking his ankle in the summer. Willian has been below average this season. Pedro has struggled with his fitness and only been the showdown of the player we have known over the years. Despite this, the young Belgian winger has only been giving 30 odd minutes of Premier League action this season and a start in the Carabao cup where he scored and impressed everyone. If it was Ruben Loftus Cheek in 2015 for Jose, It is Charly Mosounda in 2017 for Conte.
These are players who are incredibly talented. The youth set up at Chelsea is full of them, many who are out on loan. They are fully capable of making a difference. These talents will only be ready once you expose them to tough circumstances. They can only prove themselves if you let them play.  One only needs to look at Hary Winks's performance at the Bernebau last night to see this. There is a reason why Chelsea has won so much at the youth level. Conte needs to show a leap of faith in the academy which promises so much. Or else, he could find himself stagnant of options.
Team Selection
While this is something very easy to comment on in hindsight, some of Conte's decisions have been questionable. Not only the above-mentioned issues but also decisions like Bakayoko not starting vs Arsenal, Azpilicueta being shifted to wingback and Willian being subbed on for the Injured Alvaro Morata against Manchester City. Above that, his defensive set up in that match at home was surprising, to say the least. These are moves by the Italian that have clearly not worked out.
There is also a feeling that Conte's system has been worked out by Premier League teams. It is evident that some top teams have found out that Chelsea struggle against the high press. Visibly managers have found out that Chelsea struggle playing from the back when put under pressure. It is has been hence surprising that Conte hasn't worked out an effective alternative way to counter that.
Can Conte turn it around 
ADVERTISEMENT
Article continues below this ad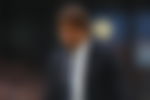 Anyone who thinks he cannot are only kidding themselves. Conte's change of system after back to back defeats against Liverpool and Arsenal last season and the turnover that followed after that has been written forever into the Premier League history books. It is well known that Conte hates defeats. If there is something we know for sure, it is that Conte will work passionately to find the right solution. If there is any Chelsea fan who already thinks Conte cannot work things out this season, one would only be right to question their support for the club.
One must not forget only a couple of weeks ago Chelsea went to Atletico Madrid and won. Going and winning at one of the hardest grounds to win in Europe exhibits more about the team and Conte than a couple of defeats in the league do. Yes, there are clearly things to work on. Yes, Chelsea has struggled with the demands of playing every 3 days. But this doesn't mean, their season is finished. If anyone has written off Chelsea, they must do it at their own peril.
ADVERTISEMENT
Article continues below this ad