Kimi Raikkonen having returned to Ferrari in 2014, has had a difficult time with the team, apparently the same team with which he won his championship in 2007. While the sufferings of the 2014 season were largely due to the Ferrari engine and the chassis itself, the 2015 season involves largely driver mistakes much like the recent spin in Canada and the crash in Austria. Kimi finished a lowly 12th last season with a mere 55 points. One year ahead, and the entire Ferrari team is now shaken up with new driver, Sebastian Vettel to partner the Finn, a new team principal and new people in the Ferrari garage.
The SF71H is a major upgrade from last year' model, with the latter accomplishing a few race victories and even challenging for the championship. While Mercedes are still at the top, Ferrari has posed a serious threat to the World Champions. But the threat has been largely due to Sebastian Vettel and his pace with the Ferrari chassis and rarely by Kimi. In his defense, he was fairly close to victory in Monaco. Ferrari's team director, Maurizio Arrivabene and Ferrari CEO Sergio Marchionne have been pretty vocal and outspoken about Raikkonen's future in the team. They clearly stated that he must perform and meet certain criteria's to be able to hold on to the seat next year.
Raikkonen's Qualifying performance has been very stellar, with him being considerably off compared to his team mate. Arrivabene has warned Raikkonen about his Qualifying performance multiple times. Raikkonen signed a one-year extension and it is set to expire at the end of the 2018 F1 season.
Meanwhile, we also bring you some other viable options who might be 'more deserving' than Raikkonen for the second Ferrari seat:
Valtteri Bottas: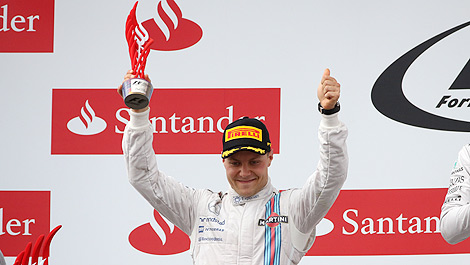 The Finn was super impressive last season finishing fourth in the points tally with 6 podiums. If rumours are to be believed, Ferrari has already placed a bid for Bottas to Wiliams. Ferrari offered 4 million euros to get the services of the Finn, though Williams is very determined to keep Bottas and in return has asked for a staggering 15 million euros. If Bottas does manage to replace the fellow Finn, Kimi, Hulkenberg is rumoured to fill his seat at Williams alongside Massa.
If Bottas' performances are taken into consideration, he has been fairly competitive and although he lead his team mate by a mere 10-9, his consistency meant he finished he finished 52 points ahead of the heavily experienced Massa. He can very well replace Kimi, especially if the rumours of Ferrari bids are to be considered. Kimi's sole good performance in his recent stint with Ferrari has been the second place finish in Monaco, this season.
Bottas has signed with Mercedes but it is not known how long he will be with the world champions.