Is The Current Fortnite Mechanics Affecting The Game?
Published 09/25/2020, 1:23 PM EDT

---
---
Fortnite battle royale has evolved tremendously ever since it launched a few years back. Chapter 2, Season 4 has so far been one of the most enjoyable seasons in the game. However, somewhere along the way, the game has lost its competitive edge, according to several streamers. 
ADVERTISEMENT
Article continues below this ad
Numerous Fortnite household names have quit the game in the past year or so due to various reasons. Most of them mentioned how the game has changed drastically as the reason behind their departure.  
ADVERTISEMENT
Article continues below this ad
Initially, Fortnite was quite competitive as a game, but not as much as Call of Duty or CS:GO. However, the building dynamic, combined with the Battle Royale mechanics made Fortnite different, and perhaps even better, than its competitors. 
This was one of the primary reasons players were attracted to the game. In recent times, Fortnite has developed from that and has taken its rightful place as a popular culture platform. 
Popular streamers discuss why Fortnite needs a major mechanic change
From the aspect of game dynamics itself, the recent inclusions snub out the essence of video games. For instance, Fortnite is so full of noises now that players cannot hear footsteps. 
This is not the first time content related issues have hampered the competitive aspect of the game. Numerous players, including FaZe Bizzle, have pointed out the areas Epic Games need to work on. While that stands as a community response, the game's general feel doesn't inspire competition anymore. 
In a mythic weapon dominated meta, many players believe that Fortnite has become a 'W-key' game. This essentially translates to a game that requires very little skill and a lot of aggression. However, this statement does not resonate with everyone in the community.
Read more – Latest Update v14.20 bring Wolverine to Fortnite
A balance is needed between content and competitive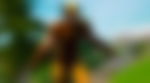 (Image Courtesy – Epic Games)
Pokimane and Myth, two of the most popular streamers of all time, discussed how Fortnite has changed. 
Firstly, the music effects, sounds, and noises can be found in every other POI. If players target mythic POIs like Stark Industries or Doom's Domain, then it is impossible to land with no competition. At that time, hearing footsteps become quintessential for the gameplay. 
ADVERTISEMENT
Article continues below this ad
Myth said, "So you got the music, on top of the cars, on top of the random missions…," to which Pokimane responded, "you're never going to hear footsteps." 
The fascinating aspect of these audios is that it still plays even though players have run away from that spot. Pokimane says, "Only when you're halfway across the world does it slowly diminish."
This has been a recurring problem for players. Without that audio-video coordination, players are literally having to prefire and hope their crosshair placement is spot on.
ADVERTISEMENT
Article continues below this ad
Epic Games need to address these issues raised by eminent members of the gaming community. Fortnite is perhaps the most popular game in the world. Thus, it is necessary that Epic lives up to that standard.