Is Tony Hawk Proof of Superman's Questionable Civilian Disguise?
Published 12/14/2021, 1:55 PM EST
---
---
Popularly known as Birdman, the iconic skateboarder, Tony Hawk, never failed to impress fans through his moves. Hawk has been in the sport since an early age. Despite retiring in 2003, the athlete still attends various skateboarding events.
ADVERTISEMENT
Article continues below this ad
Apart from being a sportsperson, Hawk is notably an entrepreneur and owns the skateboard company Birdhouse. The skateboarder also released his video game series, which took over the whole world. Hawk's talent and skill have made him one of the most influential skateboarders of all time.
The legend has never-ending hilarious stories of being unrecognized in public. Recently, another incident took place at a coffee house, where he was mistaken for someone else. Is the skateboarders proof of Superman's questionable civilian disguise?
ADVERTISEMENT
Article continues below this ad
Tony Hawk, or more like Super skateboarder?
Superman is the greatest superhero of all time. The protector of humanity and truth, who has the ultimate power to fight evil, finds it easy to disguise among some normal human beings.
The Man of Steel turns out to live a simple life as Clark Kent as very few around could recognize him. This is where understanding and intelligence failed. The only reason behind this strange phenomenon can be attributed to Superman's power to surround himself with people who are face blind.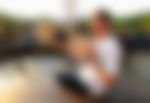 In the same way, one might compare Hawk's experiences with Superman's. Just how people around Kent never recognized him as a superman, similarly Hawk being one of the greatest skateboarders lacks public recognition.
A fan commented on Tony Hawk's tweet about the coffee house where he was unrecognized again. He linked both the scenarios and made Kent's case sound reasonable because it did happen in reality with the iconic skateboarder, Tony Hawk.
"Tony Hawk is proof that no one would think Clark Kent is Superman," a fan tweeted.
Hawk himself has revealed that people actually feel so overwhelmed, they refuse to accept reality.
ADVERTISEMENT
Article continues below this ad
Hawk's view on people not recognizing him
Hawk uses Twitter to share about the incidents happening in his life. Hawk thinks people make mistakes out of excitement and say things without really thinking about it.
"I think sometimes people, I assume, get excited, and they're trying to register it. So, they'll just sort of saying things without really giving them critical thought," said the skateboarder.
ADVERTISEMENT
Article continues below this ad
Hawk has an entire separate fanbase for these kinds of hilarious interactions. These fans actually wait for Tony Hawk to narrate more stories about people refusing to recognize the legend.