Isco and Vidal in Exchange deal?
Published 06/14/2015, 2:58 PM EDT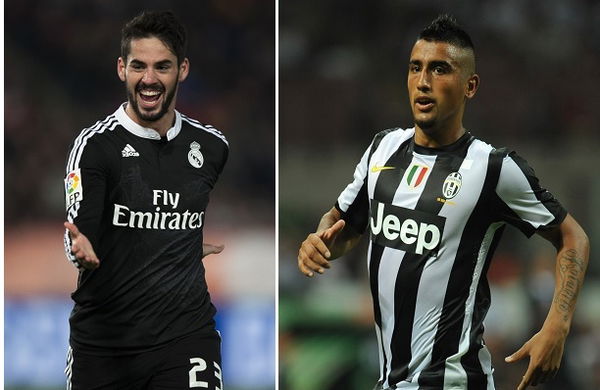 Spanish radio station COPE reports that Real Madrid have shown their interest in Arturo Vidal because Rafa Benítez wants to sign the Chilean midfielder. On the other hand, according to Italian newspaper Tuttosport, Juventus boss Max Allegri has expressed his interest in signing a new world class  number 10 for the 2015-2016 season, and Isco Alarcón is one of his main candidates for the spot.
ADVERTISEMENT
Article continues below this ad
Juventus general manager Giuseppe Marotta has revealed that the Italian champions are expecting a bid from the Spanish giants Real Madrid for their star midfielder Arturo Vidal.
Reports from last year also suggested that Vidal was heavily linked with a move away from Turin, and Manchester United were keen on getting the 28-year old midfielder's signature before the start of last season.
ADVERTISEMENT
Article continues below this ad
But Marotta claims that Real Madrid might be the favourites to make a bid for Vidal, as new Merengues boss Rafael Benitez, who has seen Vidal play many times against his former team Napoli, has been a great admirer of his qualities.
ADVERTISEMENT
Article continues below this ad
"Real Madrid did not make an attempt to sign him but it is probable that Real will do this in the future because Benitez knows Arturo very well," he told reporters on Wednesday.
Although there is no doubt over Vidal's ability as a player, many times he has been accused of having a bad attitude off the pitch. And with age not on Chilean's side, it will be difficult to see him come to Madrid and be as influential as he has been at Juventus. Moreover, Benitez might have to sell his brightest young prospect Isco to Juventus in order to complete the Vidal deal.
With Andrea Pirlo already considering a move to MLS, Isco might be persuaded to follow his former teammates Morata and Khedira to Turin as he can be assured of more first team action in Juventus which Madrid have failed to provide.
ADVERTISEMENT
Article continues below this ad
At just 23, Isco has already shown how good he is on the ball, with his superb dribbling skills and clinical finishing. Therefore it is not a surprise that the young Spanish sensation has been linked to many big clubs, with Madrid failing to guarantee him a first team place.
If Allegri signs Isco, it would be a big loss for Madrid, and will be a great addition to Juve's midfield. However, it is highly unlikely that the Los Blancos will accept to sell their greatest prospect.