Israel Adesanya Shocks the World, Knocks Out Robert Whittaker In his Backyard
Published 10/06/2019, 1:15 AM EDT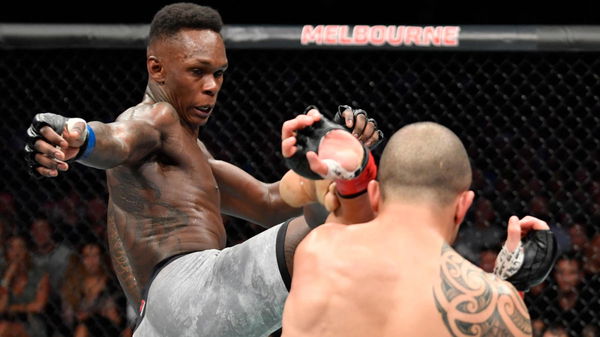 ---
---
They call him the Last Style Blender and he just showed the entire world why. Israel Adesanya did not just win the fight in UFC 243, he did it in a fashion that is unfathomable. Robert Whittaker, who was the greatest middleweight until now just suffered a devastating loss to the Nigerian champion.
ADVERTISEMENT
Article continues below this ad
60,000 fans in the arena blew the roof off when this fight went down in Marvel Stadium. Israel Adesanya danced his way into the octagon in an UFC title fight, something which was never seen before.
ADVERTISEMENT
Article continues below this ad
Turns out Adesanya was not just big talk as he backs up every single words he has said leading up to this fight. It took him less than 9 minutes to dethrone the middleweight champion, Robert Whittaker.
The fight started with Whittaker having success in closing the distance and landing a few on Adesanya. However, Adesanya countered the strikes from Whittaker effectively. Even though Whittaker threw twice as many as Adesanya did, both of them had equal number of significant strikes. In fact Adesanya would have finished the match in the first round if he had a few extra seconds since he dropped Whittaker with a slick hook in the very last seconds. the first round went to Adesanya for sure.
The second round started with Whittaker putting more pressure and trying to hurt Adesanya. However, he made the mistake of test his striking ability against Adesanya and he paid for it. Adesanya countered every shot of Whittaker with a better and more effective strike and finally knocked out Whittaker with a big left hand.
ADVERTISEMENT
Article continues below this ad
Adesanya's story certainly reminds us of journey that Conor McGregor had in his early UFC run when he knocked out Jose Aldo in 14 seconds, creating history. McGregor went on to become the biggest star in UFC thereafter. However, with this win it's safe to say that Adesanya is one of the mos popular fighter in entire UFC.
"I did what Romero could not do in 1 rounds. I did it in 2" said Adesanya after his victory against Robert Whittaker. He also mocked the doubters who never believed that he had the power to deliver an impressive knock out.
Post fight Adesanya called out Paulo Costa who was watching the fight closely at the Marvel Stadium. Things even got a little tensed between those two as Costa tried to enter the octagon to face Adesanya. It's safe to assume that Paulo Costa is next in line for the first title defense of Israel Adesanya.
ADVERTISEMENT
Article continues below this ad