The Coronavirus quarantine has been tough for tennis players. While some can afford private training facilities and continue their practice, others are not so lucky. Eugenie Bouchard recently decided to speak on the benefits of having this privilege.
She is currently lodged in her house in Miami. However, that hasn't kept her away from her tennis training routine. Despite being average during the last few years, her fans have not lost hope of a possible resurgence.
Genie on her part wants to leave no stone unturned. She spoke to Dave Morrissette live from TVA Sports on Tuesday to explain her current training regimen. Let's find out what she had to say.
Know More – When Eugenie Bouchard Received Dress Code Violation At Wimbledon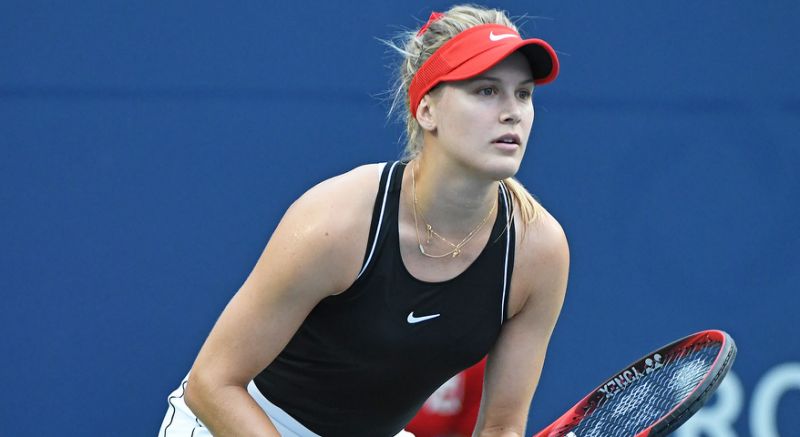 What did Eugenie Bouchard say? 
Eugenie Bouchard talked about the problems that tennis stars face when they are away from the game for such long times. She stated that it was indeed difficult and she couldn't wait to get back into action.
"It was difficult at first," she said. Fortunately, my "coach" has a private gym, so I am fortunate to continue training. Otherwise, times are a little hard. We don't know exactly when we're going to start playing tournaments again. I can't wait to go back to my day job. I hope it will end soon."
Bouchard has also been doing other stuff except for tennis. This includes her involvement with numerous charity initiatives. She recently traded a date with a fan for a donation of $80,000 towards relief effort towards the Coronavirus pandemic which has been ravaging the better part of the modern world.
Know More – When A Man Robbed $42000 From Eugenie Bouchard
"It's incredible the generosity of people", said Bouchard.
"It shows that we can come together in these difficult times. It is sure that the amount is higher than what we expected … "
Eugenie Bouchard will be expected to be at the top of her game after she returns. Time is passing by quickly and fans need her to return to her best once again. How do you think Eugenie Bouchard will perform upon the resumption of tennis?