"It Was Very Difficult": Chris Bosh Opens Up on Difficulty Adjusting With LeBron James and Dwyane Wade in Miami Heat
Published 10/24/2020, 7:00 AM EDT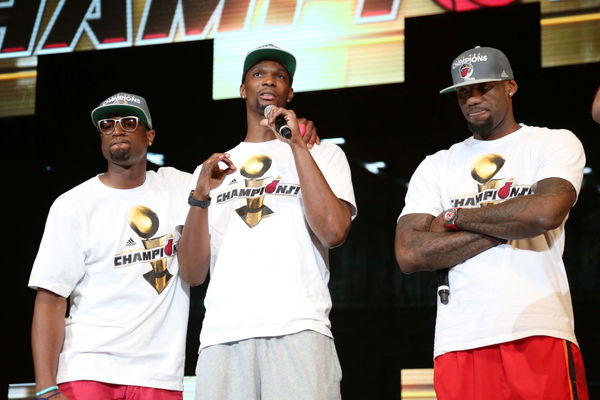 ---
---
The Miami Heat changed the NBA in 2010. Superstars LeBron James and Chris Bosh joined forces with Dwyane Wade in Miami to form the 'Big Three'. The three players came together to form the first 'super-team' of their era. With James, Bosh, and Wade, Miami went to four consecutive NBA Finals and won two back-to-back NBA Championships in 2012 and 2013.
ADVERTISEMENT
Article continues below this ad
Since then, we have seen many top-level superstars join forces to win a championship. Kevin Durant joined the 73-9 Golden State Warriors. Kawhi Leonard and Paul George came together with the LA Clippers.
Forming a super-team is not easy. Each player is forced to sacrifice part of their individual game to achieve the team's goal of winning a chip. If that doesn't happen, egos can get in the way. Chris Bosh went on Shannon Sharpe's 'Club Shay Shay' to talk about the challenges he faced during his time with James and Wade in Miami.
ADVERTISEMENT
Article continues below this ad
Bosh revealed he initially thought he would be the top scorer for the Heat. He said, "It was very difficult, to be honest with you. Because in my mind, I said, 'I'm going to get my touches here and they're going to be making plays for me because LeBron and D-Wade can pass so well. I'm going to be the leading scorer man, my game is going to continue to go up. I averaged 25 last year, I'll average 26 at least. It wasn't like that."'
Chris Bosh accepted his role…eventually.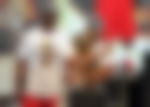 Bosh also shed light on the growing pains and chemistry problems the Miami Heat suffered in their first season together. "Even in that, we're trying to figure out as a team, running a whole different playbook. I don't like it. When it's new, nobody likes it. We're trying to figure out how to play (with each other) and then it's so loud, every game is like a playoff game.
"So learning on the fly is not really working, and we're going back to our old habits. It was bad. It snowballed into this situation where we said 'As a team, this is what we have to do'." 
ADVERTISEMENT
Article continues below this ad
The growing pains became evident to the world when the Miami Heat capitulated in the 2011 NBA Finals, losing to the underdog Dallas Mavericks. All three players were criticized for the lack of chemistry they exhibited.
For Chris Bosh, he understood that he couldn't do the things that James and Wade could do. Therefore, he had to understand his role in the team.
"And to be quite frank, they were so amazing at what they did, I said "alright cool". I would see LeBron get a block, rebound, push it, kick it up and catch an alley-oop, and I can't do that. D- Wade doing all those Euro-steps and getting the steals in the back-court. They just did things I couldn't do, so it became pretty evident as to how I would affect the game and where I would fit in with the team."
ADVERTISEMENT
Article continues below this ad
Bosh retired from the NBA in 2017, with the Miami Heat. He retired as a two-time NBA Champion and an 11-time NBA All-Star.