"It's Always Been a Dream" – Lamar Jackson on Being on Madden NFL 21's Cover
Published 06/17/2020, 1:13 PM EDT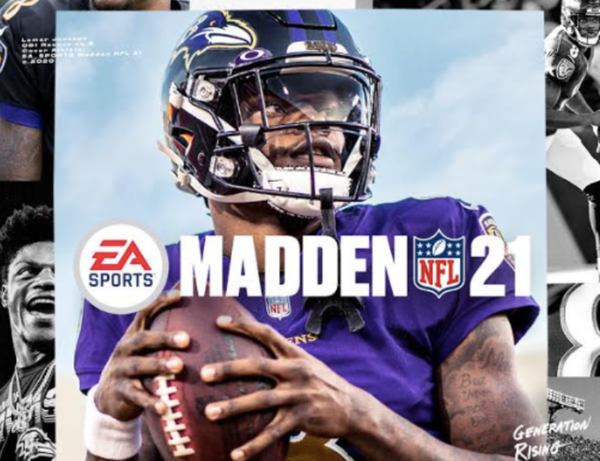 Lamar Jackson, one of NFL's favorite quarterbacks, made it to the Madden 21's cover on Tuesday. He went from being rated 24th among quarterbacks to being the popular video game franchise's new face. "It's always been a dream of mine since I was a little kid, since I first started playing Madden", Jackson said in a video press conference. "It's dope. I have every Madden. To me, to be on the front of it, it's a dream come true."
Iconic players who have been on the cover in the past
Madden NFL first released in 1988 and has dominated the realm of sports gaming since. The game is named after John Madden, who has also lent his voice and personality to it. The cover featured him until 2000, when the focus shifted to NFL stars. On achieving this feat, past Madden cover stars got together in a video to welcome Lamar to the club.
ADVERTISEMENT
Article continues below this ad
The video featured legends like former running back Eddie George who congratulated Jackson for continuing to add on to his list of achievements – Heisman Trophy, great rookie year, an even better second year, MVP season, and now the cover of Madden. "I know you're gonna be a 99, my man", he said.
Former Philadelphia Eagles quarterback, Michael Vick, congratulated Lamar for another milestone and said, "front cover of Madden. It don't get no better than that… High expectations and I know you'll be ready for it."
Former running back, Barry Sanders also congratulated the Baltimore Ravens quarterback for the "first of several" such achievements. Terrell Owens also congratulated the MVP by saying, "you've caught everybody by storm. You've danced all the way to the Madden cover."
ADVERTISEMENT
Article continues below this ad
Super Bowl MVP, Patrick Mahomes welcomed Jackson to the "elite list of guys" as well, and said that he earned it.
Lamar Jackson talks about being on the cover
In an April interview, Lamar talked about the Madden curse and even went on to say he'll be on the cover of Madden. Perhaps he knew about it already. Perhaps he didn't. Either way, with his stellar performance, he truly deserved it.
ADVERTISEMENT
Article continues below this ad
Being on the Madden cover isn't just about being on an exclusive list of top players. It has been associated with a curse since Garrison Hearst broke his ankle in 1998, shortly after being on Madden NFL 99's cover. Since then, most players on the game's cover have suffered an injury in the following season. EA dismisses any such curse, but Lamar Jackson doesn't really seem to have a problem with it. "Patrick Mahomes is on the front and he won [Super Bowl] MVP", Jackson said. "I want that curse. I hope that's a curse."
Jackson is known and feared for his mobility – something which is a rarity among quarterbacks. With his achievements and superb skills, we can't wait to see him back on the field!