"It's Big News": Rafael Nadal Says a Lot is Made Out of his, Roger Federer and Novak Djokovic's Losses
Published 04/17/2021, 9:48 AM EDT
---
---
While the tennis world reacted with stunned disbelief to his quarter-final loss to Andrey Rublev at the Monte-Carlo Masters on Friday, Rafael Nadal isn't reading too much into it.
ADVERTISEMENT
Article continues below this ad
An 11-time champion at the Principality, the Spaniard saw his bid for a 12th title go up in smoke after the World No.8 produced inspired tennis to oust him from his favorite turf.
Even as the defeat was hard for many to process, the man himself sought to see it as another game of tennis where one wins, another loses.
ADVERTISEMENT
Article continues below this ad
Rafael Nadal says fans and media are used to seeing him, Roger Federer and Novak Djokovic win
Speaking to reporters after the marathon three-setter that stretched well past the twilight hours, Nadal said every time he or his Big-3 peers Roger Federer and Novak Djokovic loses, a lot is made out of it.
The current World No.3 added that a big part of the blame lies with the Big-3 themselves as they have made such a habit of winning matches that a rare defeat gets played up and makes big headlines.
"Me, Federer and Novak have been losing very little for many years and so every time we lose, it's a big news," Nadal said.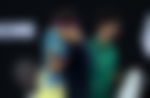 He added that such is the level of competition in the contemporary men's game that every week throws up a new winner.
And he isn't far from the truth as while the hierarchy in the men's game may not have changed as yet, the field is more competitive than it's ever been with no one, not even Federer, Nadal and Djokovic, guaranteed a win.
Rafael Nadal says competition in men's tennis is intense as every week throws up a new winner
Apart from Nadal, the Masters has already seen another huge upset in the form of Djokovic.
The current World No.1 and the reigning Australian Open champion fell to a shock straight-set loss to British No.1 Dan Evans.
"Each week, only one player wins and the others lose," the Spaniard added.
ADVERTISEMENT
Article continues below this ad
For a good many years, the Big-3 held a firm grip on men's tennis, mostly losing to each other and no one else.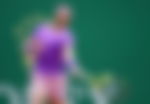 However, the emergence of the likes of Rublev, Dominic Thiem, Daniil Medvedev, Stefanos Tsitsipas and Alexander Zverev has made the men's Tour more of a level playing field.
ADVERTISEMENT
Article continues below this ad