Ivanisevic demands proof of match-fixing allegations
Published 01/27/2016, 4:46 AM EST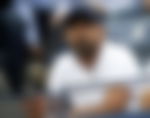 ---
---
MELBOURNE (Reuters) – Former Wimbledon champion Goran Ivanisevic says players are being hounded like "serial killers" and demanded proof of the match-fixing allegations that have rocked the sport at the Australian Open.
ADVERTISEMENT
Article continues below this ad
Tennis officials have been forced onto the back foot at the season opening grand slam after media reports alleged the anti-corruption watchdog had failed to properly police the game.
A review of the Tennis Integrity Unit (TIU) was announced earlier on Wednesday by the sport's power brokers in an effort to head off criticism that could lead to it being dragged down the same path as athletics and soccer.
ADVERTISEMENT
Article continues below this ad
Ivanisevic said statistics and numbers were not enough to prove guilt.
"There is no evidence. We are talking about algorithms and mathematics and some computer spits your name out like a serial killer and everyone is chasing you," he told reporters on Wednesday.
"You need proof. Show me that somebody did something wrong then I will believe you."
The reports by the BBC and Buzzfeed News in part involved using an algorithm to cross-check thousands of tennis matches with those that produced irregular betting patterns.
The reports did not identify players but said the matches had been red flagged to tennis anti-corruption officials, who then failed to act.
Ivanisevic, however, said irregular betting patterns on matches only resulted in players being placed on a 'maybe list'.
"Maybe I am going to have a date with Angelina Jolie," the tall Croat added. "Maybe not.
"How can you say maybe? It's a serious thing, worse than taking drugs, worse than killing somebody. Don't give me a maybe, don't give me the mathematics, give me proof."
ADVERTISEMENT
Article continues below this ad
Tennis great Martina Navratilova, who won 18 grand slam singles titles, said the reports were 'baloney'.
"There's no specifics," she said. "If any of us would have been approached it would have been 'are you kidding me? I have a match to play, go away'.
"We are talking about players losing at a grand slam on purpose? That's not going to happen. That's not going to happen at the highest level."
ADVERTISEMENT
Article continues below this ad
(By Greg Stutchbury, Editing by Peter Rutherford)