James Harden: An offensive player never seen before in the NBA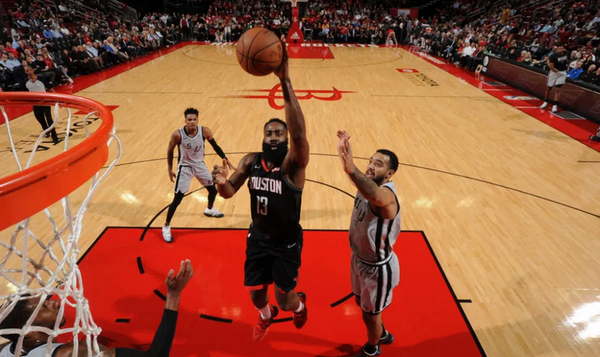 James Harden has been the greatest offensive player in the league since Michael Jordan. This season Harden is averaging an astonishing 37.7 points a game after nearly half a season. If it were to end today, Harden's points per game would be the highest average since Wilt Chamberlain's 44.8 points a game in 1963.
America's Favorite Video Today
Yes, it will eclipse the best scoring rate of even Michael Jordan. Harden's scored 40 or more points 16 times in the season. That's 40% of the games he has played so far this season. He is the greatest offensive player in the league the past decade and is continuing that trend.
However, even without those 40 point games, he'd still lead the NBA in scoring. Despite his high usage rate, Houston Rockets have gone 14-2 when Harden scores more than 40 points.
ADVERTISEMENT
Article continues below this ad
James Harden and Houston Rockets: an offensive transformation
James Harden emerged onto the NBA's central stage in 2012, when he was traded to the Houston Rockets. In Houston he's posting 29.6 points,  6 rebounds and 7.7 assists and 1.8 steals a game. Perennial All-star and All-NBA team numbers.
Additionally, he's been a consistent MVP front-runner since 2014, winning the award in 2018. He has two scoring titles to his name. Despite the overwhelming regular-season success, post-season success has been moderate.
When faced with stiff playoff opposition, Harden's Rockets generally crumble in the series. The sole exception was the 2018 NBA playoffs when Harden and Chris Paul led the Rockets to within one game of the NBA finals.
Harden's historic scoring over the last couple of seasons
Over the last one and a half seasons, James Harden has averaged over 35 points a game. In that span, no one has come close in points scored. Michael Jordan was the last to score 35 points a game over a 2 season stretch. And that occurred in the early part of Jordan's career.
ADVERTISEMENT
Article continues below this ad
This season, he's upped the ante. His 37.7 points a game will be the best scoring average since Wilt Chamberlain. This season not only is he scoring more, but he's also scoring more efficiently. 45% field goal accuracy and 38% from three-point.
Both marks are above his career average shooting marks. However, be in charging to the rim or taking a step back three-pointer, Harden's arsenal of shots never empties. He tries to add a new move every summer. This lethality is a nightmare for opposing defenders.
Providing feedback will help us make your experience better.
Enjoyed Your Read? Let us know how likely you are to recommend EssentiallySports to your friends!
Not only James Harden can score from anywhere on the court, but he also is not afraid of contact. He gets to the free-throw line at least 11 times a game. It's a nightmare for opponents to guard him. If he's not scoring or making contact, he can draw a double-team on him to free up a team-mate for an open shot.
ADVERTISEMENT
Article continues below this ad
The new system of Rockets coach D'Antoni perfectly suits Harden. Perhaps the most drawing factor is that Harden has partnered two ball-dominant guards in Chris Paul and Russell Westbrook. Even with them and their usage rate, he's still scoring effortlessly. His 14-2 record when he scores 40 points is indicative of his importance.
According to Jimmy Butler per his article in the Players Tribune, James Harden is the most unstoppable player in the NBA today. He is capable of going down in history as the greatest offensive player in the NBA.