Is Jamie Vardy really the missing link in Arsenal's squad?
Published 06/09/2016, 9:22 AM EDT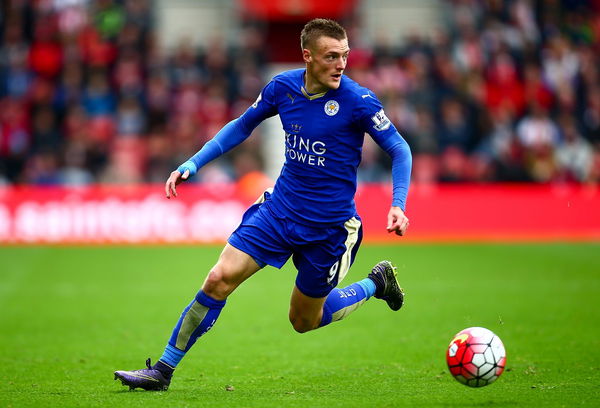 ---
---
It is perhaps a sign of the gentrification of football, or perhaps even a damning indictment of the same, that England's second place team can supposedly purchase the champions' top goal-scorer for themselves mere weeks after the season concludes.
ADVERTISEMENT
Article continues below this ad
Ten points and one position separated Arsenal and Leicester City in 2015-16. Eight goals separated Olivier Giroud and Jamie Vardy. Yet apparently, £20 million is enough to ensure both pull on identical red-and-white shirts next season.
But is £20 million really the magic cure to Arsenal's shortcomings? For the past decade and more, ever since the 'Invincibles' side of 2004 was gradually dismantled, Arsenal have supposedly lacked that missing piece of the jigsaw, that final sprinkling of stardust.
ADVERTISEMENT
Article continues below this ad
The exact nature of this mystery individual was unknown and varying. At times it was a goalkeeper, other times it was a defensive midfielder, still others it was a striker.
This search was compounded by the loss of their key players season after season. The contemporary Arsenal, however, have achieved some degree of stability in their squad, with the major transfer business over the past few windows being in terms of incomings rather than outgoings.
As a result, the question regarding Vardy is not whether he is the missing piece of the puzzle, but rather if he is really the missing piece of the puzzle. It is a subtle yet important difference.
For now, Arsenal are in a such a position of (relative) strength that they can afford to consider options besides the 29-year-old Vardy. No longer weighed down by the subtle pressure of chasing the first available target, the response to Arsenal's supposed pursuit of Vardy seems rather lukewarm.
The pros are obvious. At 29, Vardy is at the peak of his career – a quick, mobile, hard-working forward with the kind of dead-eyed finishing essential for scoring goals at the top level. It's a broad enough skill set to prove useful anywhere for any side, and it is one of whose ilk Arsene Wenger has targeted in the past (see the failed attempt to capture Luis Suarez from Liverpool in 2013).
Throughout the Wenger years, the Gunners have acquired a reputation for obtaining players with more promise to offer than proven performance. That is still true to some degree, but in Vardy, Arsenal will be getting the finished article for once – a player who must maximise the use of his abilities before they start to wane.
ADVERTISEMENT
Article continues below this ad
His displays at Leicester also suggest Vardy will sharpen Arsenal's counter attacking game significantly. Still largely perceived as a possession team, playing on the break has caught Arsenal's attacking philosophy in a sort of awkward, crab-like ideological shade.
Vardy could be the one to effect that transition completely. The prospect of Granit Xhaka dropping perfect passes behind opposition defences while Vardy storms into space is a mouth watering one for Arsenal fans next season.
Arsenal's stance is such that they are in a position to appreciate the cons of this potential move rather than overlook them in desperation. At 29, Vardy is unlikely to get significantly better than he already is. A single season of over-performance is perhaps a slightly unfair way to assess the England forward's capabilities. Furthermore, while an ideal fit for a counter attacking game, it remains to be seen how Vardy copes with a choked penalty box and a chronic lack of space behind the defence when faced with massed defences, as Arsenal are likely to encounter on a regular basis.
ADVERTISEMENT
Article continues below this ad
Ultimately, no one player is a magical cure. Although it is important to acknowledge Vardy has his limitations and even entertain the possibility that Arsenal can obtain a forward better suited for them elsewhere, Vardy has the kind of counter attacking acumen and sharp finishing that is the mark of a good forward.
Arsenal's forward line still lacks the kind of skilful, elegant forward who can dance through a tight defence. While Vardy is not such a player, direct running and good finishing is a simple combination of talents that have produced great Premier League strikers in the past. Other tactical issues (such as adapting to a one-striker system) remain outstanding, but Vardy's cut-and-thrust has, at the very least, the promise of one excellent season to build on.