Japan Olympic stadium resurfaces as possible Rugby World Cup venue
Published 01/15/2016, 5:06 AM EST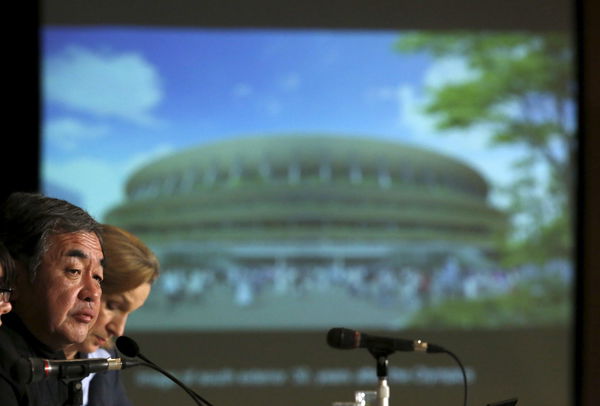 TOKYO (Reuters) – A Japanese architect who won a competition to design the centrepiece stadium for the 2020 Summer Olympics in Tokyo said on Friday engineers are now looking into whether construction can be completed in time to host the 2019 Rugby World Cup final.
ADVERTISEMENT
Article continues below this ad
The new National Stadium was supposed to stage the opening ceremony and final of the rugby tournament, but the scrapping of the original design last year meant the venue was switched to Yokohama Stadium, which hosted the 2002 soccer World Cup final.
Asked if he received a request that the construction period be reduced so it could host at least the final game of the World Cup, Kengo Kuma said; "Yes, but only informally … Specialists are taking a look at it for a responsible answer."
ADVERTISEMENT
Article continues below this ad
U.K.-based Zaha Hadid Architects was initially chosen to build the stadium, but the much-criticised futuristic design was dropped last year amid public anger over cost overruns in just one of a series of embarrassments for Tokyo Olympics planners.
Under the current plan, construction of the $1.3-billion stadium is slated for completion by November 2019, two months ahead of an International Olympic Committee deadline. The Rugby World Cup is scheduled for September 20-November 2.
An official at the 2019 Rugby World Cup's organising committee in Tokyo said it was not aware of any plan to change back the main stadium to the new National Stadium.
Following the selection in December of Kuma as a new architect for the stadium, Zaha Hadid pointed out "remarkable similarities" between aspects of her design and Kuma's.
ADVERTISEMENT
Article continues below this ad
"The concept we are pursuing is fundamentally different from Ms. Zaha's … I think you would understand these are two totally different buildings and designs," Kuma said.
The design submitted by Hadid, who designed the aquatics centre for the 2012 London Olympics, was slammed by critics for failing to harmonise with its surroundings and derided as looking like a bicycle helmet or a drooping raw oyster.
Kuma's design, which critics have likened to a hamburger or stack of pancakes, will be 20 metres (22 yards) lower than the original plan and incorporates wood into the roofing in an effort to blend with its leafy surroundings.
ADVERTISEMENT
Article continues below this ad
($1 = 117.6300 yen)
(Reporting by Kiyoshi Takenaka, editing by Ed Osmond)