Japanese Grand Prix 2019 Could Be Under Threat by a Tropical Cyclone
Published 10/04/2019, 2:23 PM EDT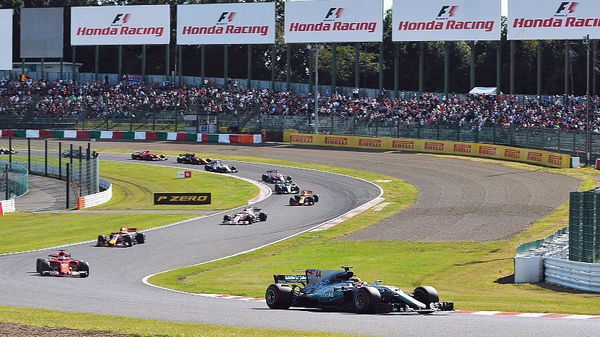 The Japanese Grand Prix 2019 is barely a week away, but there are already some issues. According to a couple of sources, the island nation could be besieged by cyclonic weather. Typhoon Mitag had been raging through the Sea of Japan for a while, but luckily, it has been downgraded to a tropical cyclone.
ADVERTISEMENT
Article continues below this ad
As a result, the Kanto-Koshin and Tokai regions witnessed stormy weather for the better part of Friday. With the cyclone potentially threatening the Japanese Grand Prix 2019, it can only mean one thing, wet weather racing. We hope we do have a race up at our hands and the weekend (or any part of it) doesn't get washed out.
Rain has always been a factor at the Japanese Grand Prix and this year will be no different. However, the kind of rain that is predicted, driver will want to tread very carefully at the Suzuka Circuit. The last time there was a cyclone in Japan, it was the 2014 season, and at the culmination, tragedy struck as Jules Bianchi lost his life.
ADVERTISEMENT
Article continues below this ad
Things have changed since then. VSC was introduced and Formula One has spared no expense on the safety front, determined to not have another F1 tragedy on its hands.
Moving on to more positive news, Red Bull and Toro Rosso are excited to race in front of the Japanese fans with Honda engines on their tails.
This year is the first time since 2007 that four Honda-powered cars will take to the grid. That year, Jenson Button and Rubens Barrichello raced for a 'works' Honda outfit and Takuma Sato and Anthony Davidson lined up for Super Aguri at Fuji.
Dear #F1-people, with typhoon #Hagibis a potentially threatening weather situation comes up for Suzuka.

Picture shows the worst case, currently predicted by one model.

It's just a hint + still a week to go, but model agreement and current formation are impressive! Stay tuned. pic.twitter.com/giLyNj9o1u

— Steffen Dietz (@sdietzf1) October 6, 2019
ADVERTISEMENT
Article continues below this ad
In fact, in Russia, a Japanese reporter told Pierre Gasly that there will be a capacity crowd awaiting Toro Rosso and Red Bull.
"It's almost sold out? The Honda grandstand is already sold out?" Gasly exclaimed incredulously.
ADVERTISEMENT
Article continues below this ad
"I think we're really looking forward to this one. Already last year it was really impressive to see so much support. Seeing it at the race, it was the most support since the start of my career because the Japanese are so passionate and they're really showing their passion and support."