Japanese Grand Prix Qualification: Talking Points
Published 10/05/2014, 2:32 AM EDT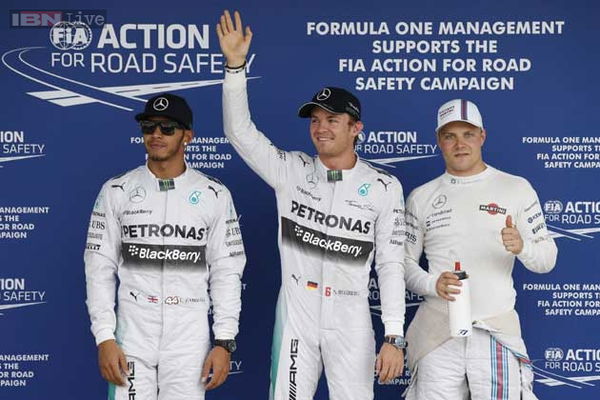 ---
---
1. Nico Rosberg takes pole position which could be crucial ahead of Sunday's Japanese Grand Prix. The German out qualifies his teammate and title rival Lewis Hamilton by 0.197s. By starting at P1, Nico has an advantage over the Briton as he is just 3 points behind the championship leader.
ADVERTISEMENT
Article continues below this ad
2. Hamilton came to qualifying after crashing at turn 1 in the final practice session this morning. He topped the charts in Q1 beating Rosberg by 0.060s. At the back of the field, Maldonado, Grosjean, Ericsson, Bianchi, Kobayashi and Chilton were eliminated at the end of Q1. But having used his sixth engine this weekend, Maldonado will drop five grid places here, with the remainder of his 10-place penalty carrying over into Russia next weekend.
3. Rosberg headed Hamilton by 0.032s in Q2 on 1m 32.950s, after a lock-up at the hairpin cost the latter a little bit. The Toro Rossos, the Force Indias and the Saubers failed to advance through to Q3. Jean-Eric Vergne was P11 with lap time of 1m 34.984s. He was followed by Perez, Kvyat, Hulkenburg, Sutil and Gutierrez.
ADVERTISEMENT
Article continues below this ad
4. In Q3, Rosberg set the fastest time of 1m 32.629s on his first flying lap and paring that down to 1m 32.506s to get the job done. Hamilton didn't have smoothest of runs in Q3. He locked up going into the hairpin that is turn 11 on each of his runs which cost him tenths of second. Still Mercedes was able to complete yet another front row lockout. But the Mercedes duo were ahead of the opposition, led again by Williams as Bottas posted 1m 33.128s for third ahead of Massa on 1m 33.527s. Alonso was again the closest to them, with 1m 33.740s for Ferrari. Red Bull had to settle with P6 for Ricciardo and P9 for Vettel. The Mclarens share the 4 row.
5.Qualifying positions could end up being vital if the poor weather conditions, caused by the closing-in Typhoon Phanfone, hit the track as expected on race day.
6.The grid for tomorrow's race is : Rosberg, Hamilton; Bottas, Massa; Alonso, Ricciardo; Magnussen, Button; Vettel, Raikkonen; Vergne, Perez; Kvyat, Hulkenberg; Sutil, Gutierrez; Grosjean, Ericsson; Bianchi, Kobayashi; Chilton, Maldonado.