Jimmy Hill, credited with transforming English soccer, dies aged 87
Published 12/19/2015, 10:15 AM EST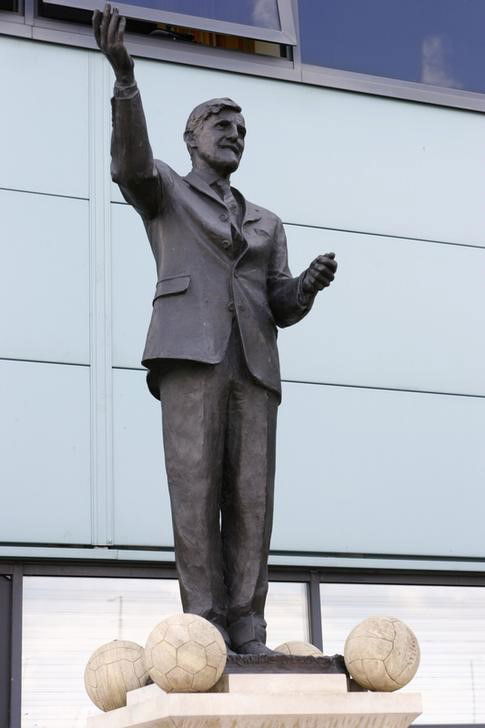 ---
---
LONDON (Reuters) – Jimmy Hill, a player, manager and pundit who helped transform English soccer by leading a campaign to remove caps on footballers' salaries, has died at the age of 87, his family said.
ADVERTISEMENT
Article continues below this ad
Hill was chairman of the Professional Footballers' Association (PFA) when it succeeded in 1961 in scrapping players' maximum salaries, which at the time were capped at 20 pounds a week, to stave off a threatened strike. The move paved the way for the huge sums top professionals earn today
He also championed the idea of awarding teams three points for a win instead of two to encourage more attacking play, which the English Football Association embraced in 1981.
ADVERTISEMENT
Article continues below this ad
In a statement on Saturday, his family said Hill had died after suffering from Alzheimer's disease.
During his playing career Hill represented London clubs Brentford and Fulham. He went on to become manager of Coventry City, taking them from the third tier of English football to the top flight, and was chairman of Coventry and Fulham.
ADVERTISEMENT
Article continues below this ad
A distinctive figure with a sharp chin and dark beard, he later moved into broadcasting and became a household name in Britain as the host of BBC TV's soccer highlights show "Match of the Day", where he was credited with bringing in expert pundits to analyse matches in depth.
Tributes poured in from ex-players and clubs across England.
"Very sad news about Jimmy Hill," former England striker Alan Shearer wrote on Twitter. "Footballers and football have so much to thank him for. A man who loved the game."
ADVERTISEMENT
Article continues below this ad
($1 = 0.6714 pounds)
(Reporting by Michael Holden; Editing by Mark Trevelyan)