John Deere Classic – Where Is It Played and Everything You Need To Know About the Venue
Published 07/07/2021, 6:30 PM EDT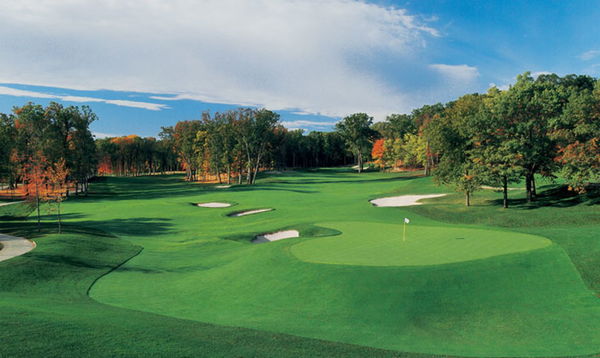 ---
---
The 2021 John Deere Classic will take place from July 8-11. TPC Deere Run will host the tournament. The event returns to the PGA Tour after 2019, as they suspended it last year because of the coronavirus. But this year, the field is deprived of star players. Most of the top-ranked players are at the Scottish Open, while others are preparing for the British Open.
ADVERTISEMENT
Article continues below this ad
Nonetheless, this provides an opportunity for plenty of other pros to make a move in the FedExCup rankings. There are already 15 players in the field who have qualified for the British Open. So here's all that you need to know about the course hosting the John Deere Classic.
ADVERTISEMENT
Article continues below this ad
What are the challenges at the TPC Deere Run?
The TPC Deere Run is a short par 71 course. There are plenty of challenges on the course, like the fast and undulating greens surrounded by thick rough. So the approach shot on this course becomes imperative. The total yardage of the course is 7,257 yards.
Apart from the rough and greens, there are a couple of holes that look intimidating to play. First is the 226 yards par-3 7th hole, which is the longest of the par-3 on the course. It plays into the general prevailing wind (watch the treetops for swirling winds), so this hole will test the accuracy and shot-making ability of even the best players.
Next is par-4 428 yards 8th hole. This intimidating tee shot must thread the needle through a narrow chute of trees to a tight and narrow fairway. The small green is open and has bunkers all around, and calls for an exciting second shot up the slight hill. The tiny tongue on the front of the green creates a spot for one of the grittiest pin positions on the course.
Finally, the par-4, 463 yards 18th is a great finishing hole. On this final dogleg left, driving accuracy is crucial. Avoiding the large fairway bunkers is imperative. And from there, it is a long approach to deep and thin green and has two large bunkers on the right and a long and narrow pond to the left.
ADVERTISEMENT
Article continues below this ad
Complete yardage of TPC Deere Run: The host of John Deere Classic
Here is the complete yardage of the TPC Deere Run:
| | | |
| --- | --- | --- |
| Hole | Par | Yards |
| 1 | 4 | 395 |
| 2 | 5 | 561 |
| 3 | 3 | 186 |
| 4 | 4 | 454 |
| 5 | 4 | 433 |
| 6 | 4 | 367 |
| 7 | 3 | 226 |
| 8 | 4 | 428 |
| 9 | 4 | 485 |
| Out | 36 | 3535 |
| 10 | 5 | 583 |
| 11 | 4 | 432 |
| 12 | 3 | 215 |
| 13 | 4 | 414 |
| 14 | 4 | 361 |
| 15 | 4 | 465 |
| 16 | 3 | 158 |
| 17 | 5 | 557 |
| 18 | 4 | 463 |
| In | 36 | 3648 |
| Total | 71 | 7183 |
ADVERTISEMENT
Article continues below this ad