Jorge Lorenzo owns Mugello, yet again!
Published 05/31/2015, 3:44 PM EDT
By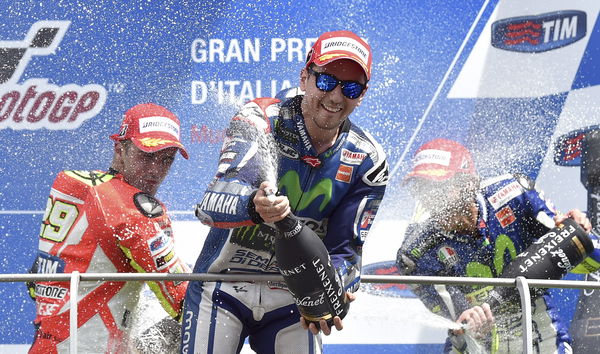 Three consecutive wins in MotoGP and the gap difference still makes us wonder what in the world has happened to him. Yet again Lorenzo impresses Yamaha with no other rider even close to see him on the track. While most of the spectators supported their home team Ducati and Valentino Rossi, the riders surely gave them an amazing show with Iannone (Ducati) and Valentino Rossi (Yamaha Movistar) on second and third positions respectively.
ADVERTISEMENT
Article continues below this ad
After a long time we saw really odd pole positions with Valentino Rossi starting at 8 and Marquez (Repsol Honda) on 13 and well Lorenzo being just Lorenzo on the second place. Andrea Iannone and Dovizioso of Ducati had a really good start because of the mid range torque of the Ducatis until the first corner happened.
ADVERTISEMENT
Article continues below this ad
Lorenzo took the lead on the first corner. Well that is usual for most of the part. It was surprising to see Marc Marquez overtaking four riders initially including Rossi and Crutchlow (LCR Honda) followed by five more in the first lap itself. Marquez was pushing his motorcycle to it's limits by breaking late and eventually overtaking others as he was sure that once Lorenzo was gone, there's no catching up to him. Clearly he didn't want that, which also led him to go wide on the first corner in many laps in order to overtake Iannone and come to second position.
The battle for second between Iannone, Marquez and Pedrosa (Repsol Honda) was getting more and more breathtaking and it seemed that Marquez's hard work would pay off until he low sided on a right turn and was eventually out. Rossi gained six positions, overtook Pedrosa and finished third.
A lot of crashes happened in Mugello but what a race. Valentino Rossi stays at top of the world standings but he'd better do something to stay there because the way Lorenzo is behaving lately in the last couple of races, you never know when he would wave Rossi 'Ba-Bye' instead of the crowd.
Race Standings
1                      Jorge Lorenzo                        Movistar Yamaha
2                      Andrea Iannone                    DucatiTeam
3                      Valentino Rossi                     Movistar Yamaha
4                      Dani Pedrosa                         Repsol Honda
5                      Bradley Smith                        Monster Yamaha Tech3

World Standings
ADVERTISEMENT
Article continues below this ad
Valentino Rossi – 118 Points
Jorge Lorenzo – 112 Points
Andrea Dovizioso – 83 Points
Andrea Iannone – 81 Points
Marc Marquez – 69 Points
ADVERTISEMENT
Article continues below this ad