6 Reasons Why Jose Mourinho is the Right Choice at Old Trafford
Published 05/27/2016, 3:08 AM EDT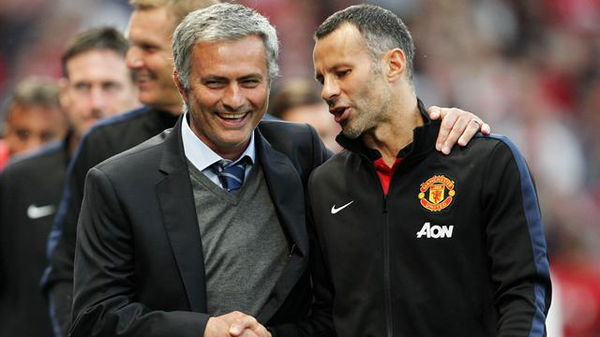 ---
---
With Louis van Gaal sacked, Manchester United have been quick to put down any speculation and have confirmed the signing of Jose Mourinho as their new manager. Though boasting of one of the best CVs in the world, there is a lot of debate over whether the Portuguese is the right man for the job or not.
ADVERTISEMENT
Article continues below this ad
In this article let's look at why Jose Mourinho is the right man for the job.
1. Winning Mentality
ADVERTISEMENT
Article continues below this ad
Louis van Gaal is a fantastic manager. He too, like Mourinho boasts of an impressive CV. But one thing that all United fans collectively hold against the Dutchman is his mentality. Stating multiple times that "fans are expecting too much" clearly indicates that Van Gaal didn't have the winning mentality that a club of Manchester United's stature.
And when talking about winning mentality, there are a few in the world more competitive than Jose Mourinho.
His mentality is much needed for a club which is so used to winning, else the club might go down the same road as Liverpool or indeed Arsenal.
2. Better Football
Though Louis van Gaal has been a top coach for many years, there is no doubt that the football the United played under him was sometimes hard to watch. With the team being in top of the league of most back and side-way passes, it was certainly not the style of football fans wanted to see, even though that did improve as the season was ending.
And even though Jose Mourinho has had his share criticism of "parking the bus", his Chelsea side that won the league in the season before were phenomenal to watch. Also, the Portuguese has often adopted to attractive football, if he has the right players. His Real Madrid side that won the league is the proof of that, which often is labelled as best counter attacking side to grace the football pitch.
3. Premier League Winner
The Premier League is arguably the toughest league in the world. So whether it is the players or a manager, it's not always easy to adapt (ask Memphis Depay). The same was true for Louis van Gaal. The Dutchman struggled to analyse the mid table teams in the Premier League. This was the reason for Van Gaal having a decent record against the top 4 oppositions but he struggled against the likes of West Ham, Sunderland, Watford and other similar clubs.
But with Mourinho on board, United has someone who knows the league in and out. With three Premier League titles to his name, it's no doubt that his experience will be priceless and might be what the team missed under Louis van Gaal.
4. Better For the Players
Louis van Gaal, to his credit, has done the best thing he does at every club he manages, and that is developing some great young prospects. It was refreshing for United fans to see academy graduates performing at the big stage. The Dutch manager has laid foundations for some exciting young prospects lile Jesse Lingard, Marcus Rashford, Timothy Fosu-Mensah, Cameron Borthwick-Jackson and ofcourse the 37-Million Pound signing 20 year old Anthony Martial.
And on the other hand, Jose has often been criticised of ignoring the young talent and buying more established players.
But a closer look at it proves that though Mourinho tends to completely ignore some players (ask Juan Mata), but not necessarily youth players. In fact throughout his career he has given chances to young players like Ricardo Carvalho, Deco, Robben, Raphael Varane, Kurt Zouma and many more. One should also not forget how he transformed Didier Drogba from a relatively unknown striker playing at Marseille to one of the greatest Premier League strikers ever.
Also, though Martial has had a fantastic season, by his own admission he would have liked to play more in the middle rather than on the left. But Van Gaal constantly played him on the right, even preferring Ashley Young over him for the striker's job. It's also well known that the Portuguese is a big fan of Wayne Rooney. Several times he has tried to poach him to the club he is managing, and with him finally getting a chance to manage him, he might well find Ronney's scoring touch back.
Another point of debate that surfaced all over the media that players were not happy with the style deployed by Van Gaal, and understandably so, and it's safe to assume that it will only improve when Jose comes.
So it will be fair to say that Jose Mourinho will improve the dressing room's atmosphere.
Another factor that Mourinho is associated with himself is how he takes the pressure away from players by directing it towards him, which will also be a boon to the players.
5. Entertainment
Van Gaal had his fair share of funny and sometimes really weird encounters with the press, but let's be honest, if witty interview is an art, Jose Mourinho is the Picasso of it.
With Jose Mourinho as the coach, there is drama guaranteed, and though it might not necessarily be a good thing, but a little entertainment doesn't harm anybody.
Also in footballing terms, with the arrival of Jose Mourinho, already high profile matches will be more exciting to watch. His rivalry with Arsene Wenger will make United vs Arsenal one of the most anticipated ties. It will also reignite an already fiery derby with cross town rivals City, as it will not only be a derby but also the reunion of Jose Mourinho and Pep Guardiola as they resume their personal battle to prove who the best in the world is.
Also with the "special one" having a point to prove against his former club, his passion and may be desperation might fuel the players for a better performance.
6. Sir Alex Ferguson Approves
It's no secret that Sir Alex Ferguson has been a huge admirer of Jose Mourinho. The latter has also shown great respect for the Scottish manager. Their relationship off the field has been fantastic and Sir Alex has even compared Mourinho to his younger self. And it's hard to question Sir Alex's judgement. So when he approves Mourinho as a United manager, it makes it that much easier to believe that he is the right man for the job.
Here are some quotes of Alex Ferguson on the Special One –
After Jose was sacked from Chelsea in September 2007:
"It is a disappointment for the game. He was terrific for football and terrific for Chelsea. I enjoyed the competition with him. He was something fresh and new to our game. I don't know what I will do with my wine now. I wish him well."
ADVERTISEMENT
Article continues below this ad
In an interview with Sports Illustrated:
"He's at the top, there's no doubt about that. You have certain criteria in terms of top management, and that is longevity of success—which is very difficult today—and what you win. You have to regard his achievements as really first-class."
Comparing himself with the Portuguese in a book published in December 2011:
ADVERTISEMENT
Article continues below this ad
"I look at Jose and I see myself reflected in many of the things he does. In the first year at Chelsea when I saw him running along the touchline at Old Trafford, he reminded me of my first years at Aberdeen jumping, raising my arms, celebrating. We're only human. We can't hide our emotions. They're always there, they're part of who we are, of our character."
As stated before, Sir Alex Ferguson approves. Is there a better reason?