Juan Martin del Potro beats Stan Wawrinka
Published 07/01/2016, 11:46 AM EDT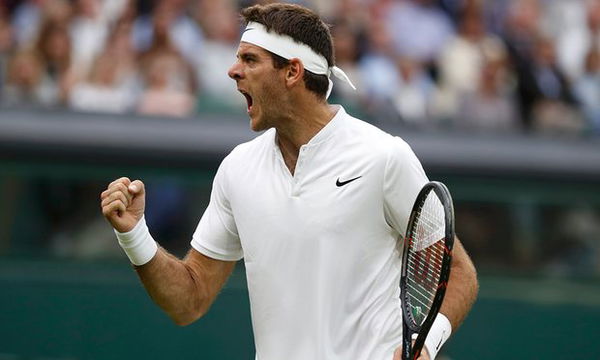 Juan Martin del Potro knocked out 4th seed Stan Wawrinka 3-6, 6-3, 7-6, 6-3!
Juan Martin del Potro beat the fourth seed, in only his second grand slam match after his return from the awful, wretched, miserable wrist injury that took him away from us for almost three years!
The unseeded Argentine took 2 hours and 44 minutes to wrap up the 2nd round match against the Swiss.
It was del Potro's first win against a Top 5 player in the Emirates ATP Rankings since he defeated Rafael Nadal at the ATP World Tour Masters 1000 event in Shanghai three years ago. Del Potro was making his return to the lawn of the All England Club after a two-year absence, having missed the event in 2014 and 2015 due to wrist injury. In his most recent trip to Wimbledon in 2013, he reached the semi-finals.
An amazing effort from the former US Open champion who served with pace and precision. Just think how good Del Potro could be if he ever regains 100% fitness.
Watch the twitter reactions from the tennis world after this major 2nd round upset.
https://twitter.com/MechaBur/status/748895643452731393
https://twitter.com/VividhRaje/status/748895628244037633
https://twitter.com/LuisGatTWI/status/748896335349374977
https://twitter.com/FoxSportsTennis/status/748881191776821248
https://twitter.com/Top10Hashtag/status/748898011309301760