Jurgen Klopp Threatens to Quit Liverpool if they Were to Release His Video Like Salzburg
Published 10/05/2019, 6:23 AM EDT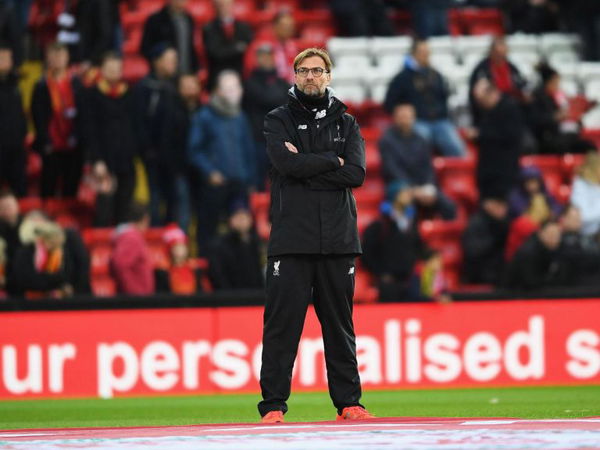 ---
---
The Wednesday's UEFA Champions League match between Liverpool and Salzburg saw as many as seven goals being scored. At the end of the first half, it looked as if Liverpool would cruise past a seemingly lesser opponents, but Salzburg showed some great fight after the break, and almost pulled off an upset.
ADVERTISEMENT
Article continues below this ad
The Dutch side, after being 3-1 down at half time, leveled the score 15 minutes into the second half, making it 3-3. Liverpool scored another one very soon through Mohamed Salah, and went onto win the match 4-3, but the performance from the underdogs certainly raised a few eyebrows.
For an outstanding turnaround of such a kind, it must have been some talk from the Salzburg manager- the video of which came out of after the match. Jesse Marsch was seen bellowing at his players, urging them to get at their opponents and play like it was a Champions League match. The result was clearly visible in the second half as Salzburg almost shocked Liverpool.
ADVERTISEMENT
Article continues below this ad
"It's not a fucking friendly, it's a Champions League match!": Marsch was seen shouting to inspire his players in the video
"We've got to play more physical and get stuck in. Be more ruthless against Van Dijk, we play with too much respect. Too much respect," he continued.
"Are they strong? Yes. But it doesn't mean that we should be nice to them and don't tackle them or fight.
"They have to feel us guys, they have to know we're fucking here to compete, not just that we're here to stylistically going to try and play the same way, but we came to fucking play."
ADVERTISEMENT
Article continues below this ad
Great insight into the half-time talk from Jesse Marsch in their game vs Liverpool.

Interesting to note the emphasis placed group cohesion and re-aligning mentality before addressing any tactical components. pic.twitter.com/unNplaA25U

— Darian Wilken (@CoachDarian) October 3, 2019

The words in the video might have sounded inspirational, but Liverpool manager Jurgen Klopp did not seem happy on such videos made public. In fact, he threatened leave Liverpool if they were ever to release such a video.
ADVERTISEMENT
Article continues below this ad
"If LFC would put a video out with me in a situation like that, I would leave the club," Klopp told reporters on Friday. "That's the truth. That's all I can say about that."