Jwala Gutta lashes out at Gopichand after Canadian Open victory
Published 07/03/2015, 10:32 AM EDT
By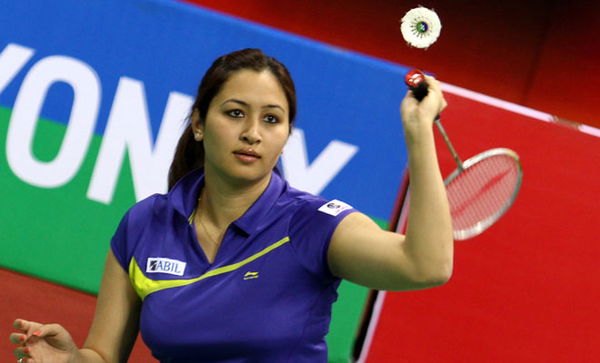 In an exclusive interview with Hyderabad Times, Jwala Gutta asked national coach Gopichand "to treat us all equally or step down". She said that she had achieved a lot along with partner Ashwini Ponnappa but they never got their deserved appreciation, mainly due to one person – Gopichand.
ADVERTISEMENT
Article continues below this ad
Jwala Gutta said that it was very disheartening not to be included in the TOP (Target Olympic Podium) despite being the 13th ranked team in Badminton Doubles and hoped that this win would get them there. She also pointed out that Gurusai Dutt, who is ranked 43 in the world is in the TOP scheme and it was not fair that he got there ahead of herself and Ashwini.
Though, Jwala Gutta may have a point regarding Gopichand's bias towards players from his academy, she does not have the right to criticize a teammate who has done absolutely no wrong and has been working very hard in the past year. She could have made her point without using Gurusai Dutt's name as an example. Further, she said that Gopichand was yet to even congratulate them on their victory.
Ashwini Ponnappa, when contacted said that she completely agreed with Jwala Gutta and expressed her disappointment at not receiving a congratulatory message from the National coach. She also felt that Gopichand should step down if he cannot treat all players equally.
Pullela Gopichand addressed the allegations and said that he was not on any social media platform and he was at the President's dinner on Tuesday so couldn't congratulate them in person. But, he assured that he had sent representatives from the Ranagareddy Association (of which he is president) to receive the duo in the airport. He furthur said that he has always supported Jwala Gutta and she wouldn't have gone to the tournaments if he hadn't proposed her name. He said that she has no moral standing to ask him to step down and his record speaks for him.
There has been tension between them for a while and for the sake of Indian Badminton, it is hoped that they will sort things out amicably and go on to make India a superpower in Badminton.