"Kaiser Franz" finds himself in FIFA trouble
Published 10/21/2015, 2:25 PM EDT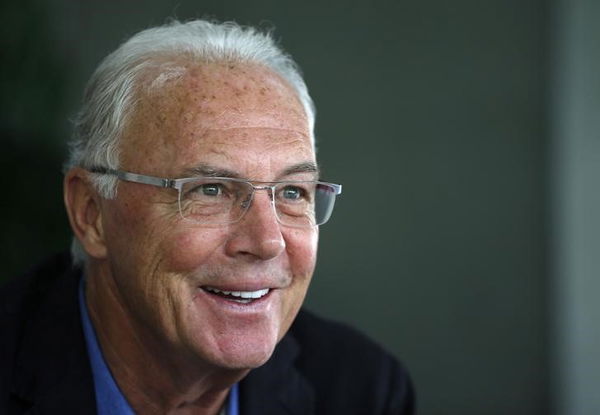 By Karolos Grohmann
ADVERTISEMENT
Article continues below this ad
BERLIN (Reuters) – "Kaiser Franz" has been the nearest thing Germany has to royalty, the World Cup-winning player and coach enjoying a unique status among the country's athletes past and present.
On Wednesday however, FIFA's ethics committee said it had passed on Franz Beckenbauer's case to the organisation's ethics judge for a ruling on alleged non-cooperation with investigations into the bidding process for the 2018 and 2022 World Cups.
ADVERTISEMENT
Article continues below this ad
The case may tarnish the image of a man who has been the symbol of German football's outstanding success and an elegant presence off the field in his later career.
He had the golden touch, captaining West Germany to their 1974 World Cup triumph on home soil and winning again as coach in Italy in 1990. He reached the pinnacle of global football administration as a FIFA Executive Committee member before the clouds began to gather around him.
Beckenbauer is renowned for his ability to let scandals roll off him like water off a duck's back – whether it is having a child out of wedlock or rumbling alllegations over the 2006 World Cup. That survival skill may now face its biggest test.
The son of a Munich post office worker, he signed up for Bayern Munich's youth programme in 1958, aged just 13.
Established in the first team, Beckenbauer helped what was then a no-name club win promotion to the Bundesliga in 1965. He quickly won selection to the national team and played in the 1966 World Cup final defeat to England at Wembley.
A glittering career followed, with Beckenbauer, who embodied the role of libero like no other player, orchestrating the game from the back.
With him, Bayern won both the Bundesliga title and the German Cup four times. He led the club to three consecutive European Cup wins from 1974 to 1976.
He was twice voted European player of the year before ending his international career with 103 caps in 1977. He went on to win three U.S. championships with the New York Cosmos, playing alongside Brazilian Pele, before finally retiring in 1983 after a short stint at Hamburg SV.
But he was soon called on to save the national side once again, after their early exit from the 1984 European championship.
Two years later, West Germany were in the World Cup final, going down to Argentina. But in 1990, Beckenbauer led the team to their 1-0 World Cup revenge against the same opponents, becoming only the second man to win the trophy both as player and coach.
ADVERTISEMENT
Article continues below this ad
He enjoyed further coaching success at France's Olympique Marseille before taking Bayern to the German title in 1994 as interim coach, going on to become elected club president later that year.
An honorary Bayern Munich presidency followed and Beckenbauer shifted into international administration with the FIFA Executive Committee position and a role as bid leader and organiser of the 2006 World Cup in Germany.
That tournament, the "summer fairy tale", was judged a huge success but has come back to haunt him. A magazine report last week alleged he and current German Football Association chief Wolfgang Niersbach had been aware of an alleged slush fund set up to bribe FIFA members to vote for Germany.
ADVERTISEMENT
Article continues below this ad
Beckenbauer has rejected the claims as baseless but politicians are calling for an investigation and the Frankfurt state prosecutor has launched an initial "monitoring process" to determine if a formal probe is necessary.
(Editing by Andrew Roche)