Karl Jacobs Addresses Past Events Surrounding Ice Poseidon; Apologizes for Problematic Slip-Ups
Published 05/01/2021, 12:12 PM EDT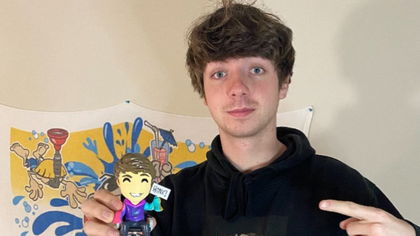 ---
---
The internet is a very punishing place that doesn't forget even the slightest slip-ups by people. It is almost impossible to erase embarrassing or controversial evidence from one past. Unfortunately, popular Minecraft streamer Karl Jacobs recently found himself in a similar situation. To make matters worse, netizens already want to cancel Karl for these dark blips in his career.
ADVERTISEMENT
Article continues below this ad
Obviously, Karl wasn't always as famous as he is now. The streamer has had peaks higher than Ludwig, the current King of Twitch. However, he was also a desperate upcoming streamer looking for every opportunity to grow. He was also a fanboy who wouldn't miss any chance to meet massive streamers, especially those he looked up to.
Karl Jacobs only wanted to meet a popular streamer
ADVERTISEMENT
Article continues below this ad
Naturally, Karl couldn't give up a chance to meet Ice Poseidon, an extremely controversial former Twitch streamer who is now banned for his behavior on the platform. Given Poseidon's influence a few years ago, almost everyone would want to get a photo with him. However, as soon as he got off his prime, no one would want any association with him.
When a picture of Karl Jacobs with Ice Poseidon surfaced on the internet, fans started criticizing him for his choices. Clearly, Karl had to address the issue before matters got out of hand.
In a Twitlonger post, Karl said, "He was doing an IRL stream in my city when I lived there, and when I had the ability to show up on one of the biggest streamers streams at that point, I decided to show up where he was streaming uninvited."
ALSO READ: Ludwig, Karl Jacobs, Jacksepticeye And Other Notable Names React to Sykkuno Meeting Corpse Husband
Karl distances himself from Ice Poseidon
ADVERTISEMENT
Article continues below this ad
Jacobs continued his apology by also adding that he was merely a passionate individual looking for a photo. The photo doesn't mean that he condones or endorses any of Ice Poseidon's actions or words.
"I do sincerely apologize as I have for a while now understood that this could be viewed as an endorsement. I don't endorse any of his actions, and I stopped watching his content a long time ago. I'm extremely sorry to anyone that heard that we had met and was impacted in a negative way. I never want anyone to feel uncomfortable in this community or to have doubts on who I am as a person."
ADVERTISEMENT
Article continues below this ad
Karl Jacobs' apology had been well received by his fellow streamers. It seems like he has the support of his friends and colleagues who understand how difficult it can be in such situations. All that remains is for his fans to recognize the complexity of these events and make their mind about whether Karl Jacobs is a good guy.