"Keep Your Tickets for 2021"- Bianca Andreescu Mourns Rogers Cup Cancelation
Published 04/12/2020, 5:24 PM EDT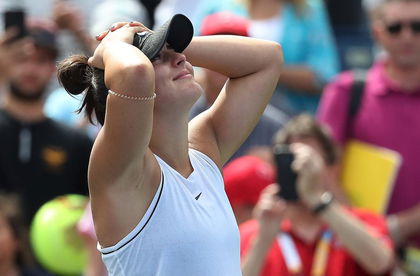 ---
---
The WTA Rogers Cup scheduled in Montreal for August has been postponed to 2021. This hardly comes as a surprise given the horrendous ordeal we are going through as a species. Amid the series of disappointing news, Canadian tennis star Bianca Andreescu has called on the fans to hold tight.
ADVERTISEMENT
Article continues below this ad
Tennis is far from the most important thing in the world right now. And while we may agree with that, it still hurts not to have tennis in our lives.
The organizers of the Rogers Cup announced the postponement of the event to the next year, as was imminent.
ADVERTISEMENT
Article continues below this ad
The tournament director Eugene Lapierre expressed his disappointment following the decision.
"Our priority in the management of this crisis has always been to ensure the safety and well-being of our players, fans, volunteers, partners and employees. It is thus with a heavy heart that we received this news, but we understand that this decision was necessary."
"Let's do this right"- Bianca Andreescu
Missing from the Tour well before the COVID-19 pandemic, Bianca Andreescu was just about getting back to full physical fitness.
At the start of last year, Bianca Andreescu was but a rising star, but she proved herself capable by denying Serena Williams a 24th Grand Slam.
Sadly, she suffered an injury soon after and had to step off.
The 19-year old US Open champion had also captured the Rogers Cup in Toronto last year. She will now have to defend her title in 2021, but she was very understanding of the situation. In fact, she agrees it is the right thing to do.
ADVERTISEMENT
Article continues below this ad
Bianca Andreescu will be hopeful of defending her US Open title later in the year. However, the USA is currently in a dire situation with the disease. It is unlikely that the country would be able to hold the Grand Slam this time around.
ADVERTISEMENT
Article continues below this ad
Although, if anyone can dig themselves out of a hole, it is the Americans. Let's hope the country can get the upper hand and push back the outbreak.