Martin Keown compares Mo Salah's performance to Messi's
Published 04/25/2018, 2:45 PM EDT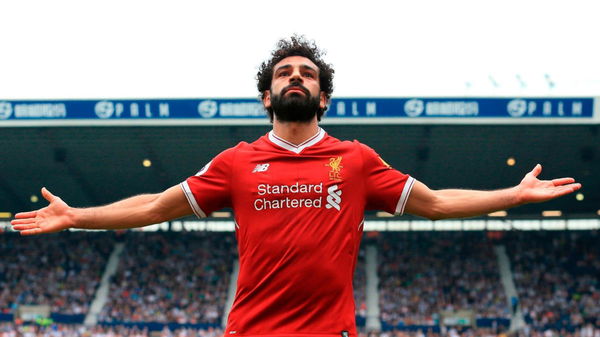 ---
---
Mo Salah has been turning heads ever since. Yesterday, in the match against Roma, he scored the opening two goals, setting the momentum for a 5-2 win for Liverpool. Liverpool were comfortably leading 5-0 up until the 80th minute before they conceded two goals to make it 5-2. Alongside Salah, Sadio Mane scored one for Liverpool and two were scored by Roberto Firmino.
ADVERTISEMENT
Article continues below this ad
Among his many appreciators is Martin Keown, who said, "Mo Salah's stunning performance was like watching Lionel Messi in disguise,"
Liverpool legend, Steven Gerrard said that Salah is the best player in the world right now.
ADVERTISEMENT
Article continues below this ad
"He's in the form of his life," he said on BT Sport .
"It's difficult to compare him to your Ronaldos and Messis because they've done it for so long and they've been consistent year in, year out.
"But without a shadow of a doubt he's the best player on the planet right now."
Martik Keown was also appreciative of another Liverpool star, saying that his performance shouldn't be overlooked.
"But we should not overlook the crucial role Roberto Firmino played in creating his second goal.
"Salah's dink over Alisson was so sensational that it was easy to miss Firmino's brilliance in the build-up.
"Picking up the ball from Salah, he travels a long way before waiting patiently to play a perfectly weighted pass.
ADVERTISEMENT
Article continues below this ad
"The ball was so good that Salah only had to think about putting it in the back of the net."
Read: Decoding Manchester City's Historic Win
Both the teams now travel to Roma to play the second leg where Eusebio Di Francesco's team whill be looking to produce another stellar comeback, something they did with Barcelona in the Quarters.
ADVERTISEMENT
Article continues below this ad
Jurgen Klopp, the Liverpool manager, was quick to rubbish the possibility.
"We are not Barcelona, they are one of the best two or three teams in the world and won so many things – we didn't. We will fight with all we have." – he said.