Kevin Durant and Draymond Green Spat: What had Happened in 2018?
Published 11/17/2019, 3:20 PM EST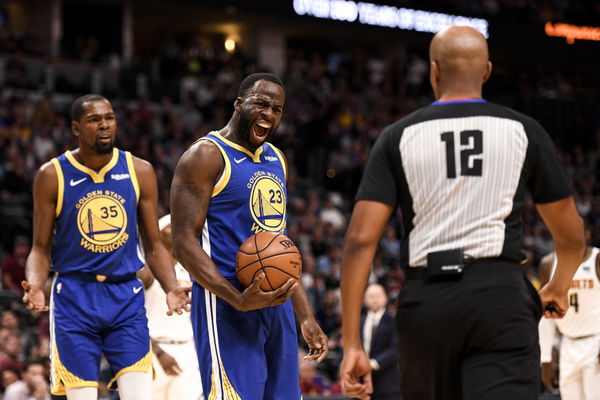 ---
---
It was October 2018. The NBA season was about to begin. Golden State Warriors coming into the season with four straight NBA finals appearances and two championship victories on their back. And their star-studded lineup, led by Splash Brothers and Kevin Durant, did not give anybody a reason as to why they cannot go deep into the season one more time.
ADVERTISEMENT
Article continues below this ad
Fast forward a month, the Warriors, as expected, started the season in a dominant fashion. But then they had a trip to Los Angeles to face the Clippers. The game ebbed and flowed, and it was increasingly tense inside the STAPLES Centre.
It might not have been surprising to see one of the players to have got into a beef with an opponent. But it was indeed shocking to see two players in the Golden State jersey involved in a heated argument with each other. Draymond Green had grabbed a rebound, and dribbled into traffic, which apparently seemed to have led to the dissatisfaction of Kevin Durant, who expected a pass from Green.
ADVERTISEMENT
Article continues below this ad
What happened between Kevin Durant and Draymond Green?
Durant was upset about not getting a pass from Green before he turned the ball over in the final seconds of regulation time in the game against the Clippers.
There have been more than just one understanding of what happened. While a few sources said that Green was perturbed by Durant clapping for the ball and being upset about not getting it for a possible game-winner, other sources went on to say that Green had crossed the line, with a very personally directed response.
But what is clearly known is what was visible to the eye. The game went into overtime and Durant & Green were seen yelling against each other in the break. And what became known after almost a year was that Green refused to apologize to Durant after the altercation.
In an interview with ESPN's Rachel Nichols a few months back, Green said: "Everyone wanted me to go to Kevin and say, 'Hey man, I'm sorry. Everybody. Maybe Kevin. The organization, the world. Everybody wanted me to go to Kevin and say 'I apologize, man, I'm sorry.' I told them no, I am not doing that."
He then added, "Because A. It's not the time for that. That's ridiculous. First off, you need to let time do its job. And when the time is right, I'll feel that and it'll be genuine. But what I wasn't going to do is, I wasn't going to go to Kevin and say I'm sorry because everybody wanted me to. No, it's not going to genuinely happen and when it genuinely happened, everything will correct itself. But if we force it, it won't correct itself."
So, what happened next?
ADVERTISEMENT
Article continues below this ad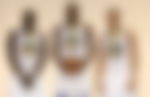 The rest of the season went by with speculations among fans and media, based on the fights. One being the future of Durant- a two-time finals MVP with the Warriors, and another probably of greater significance at that moment, was the impact on team chemistry and hence on their search for a third consecutive Championship. The team, however, did not perform badly and went on to feature in their fifth consecutive finals.
Durant, allowing one of the rumors to turn genuine, left the Warriors for Brooklyn. As for Green, he eventually admitted to being "wrong" and continued playing for the Warriors in a season that saw a few of their stars leaving. It was only recently in 2021, that both the players discussed those days in a one-on-one interview.
ADVERTISEMENT
Article continues below this ad
Who do you think was at fault? Help us know in the comments.
Watch this story – Draymond Green Clawing at Patrick Beverley and Other Angry Moments